Are bioethanol fireplaces safe?
Are bioethanol fireplaces safe?
Bioethanol fireplaces produce real flames, so it's important that they should be treated with the same level of caution and safety as any other object that produces flames. Having said this, bioethanol fireplace safety procedures are very easy to follow, meaning that they are suitable for use in most homes.  
To ensure that our customers stay as safe as possible, Imaginfires are constantly updating and improving our biofires. This means that our ethanol fireplace safety features have been tested by a world-renowned testing laboratory to ensure they meet the new British and European safety standard BS EN 16647:2015. Customers can rest assured that we only sell products that we would and have been delighted to install in our own homes.
What makes bioethanol fires safe indoors?
Recent updates include the introduction of a new, patented, 'no-spill' fuel box into our freestanding, fire basket and woodburner biofires. This means that the biofuel is quickly absorbed by a special internal absorption feature, reducing the risk of any biofuel spilling out of the fireplace when knocked.
Of course, despite every effort being made to make biofires as safe as possible, there are a few basic safety measures biofire users should always follow. These are all listed in the supplied product manual, but include:
Taking care with biofuel
Biofuel is obviously a flammable substance, so it should be handled with care for maximum ethanol fireplace safety. It is important never to pour biofuel onto a lit or warm fireplace. Rather, users should only refuel the fireplace once it has been turned off and cooled down. 
Before refilling the steel fuel box with the bioethanol fuel, always ensure the fuel box has returned to room temperature (this takes approximately 30 minutes from extinguishing the fire). You should also clean up any biofuel spillages before lighting the fire.
Purchase high-quality fuel
To keep your running costs reasonable and to avoid any potential problems that low quality biofuel could cause, we recommend buying the fuel that is of a high quality and has at least 95% alcohol. This provides the best and longest flame.  
We offer some of the best value biofuel in the market, and our fuel is developed and bottled specifically for Imaginfires biofires. You can read many great Trustpilot reviews we have received from customers for our biofuel.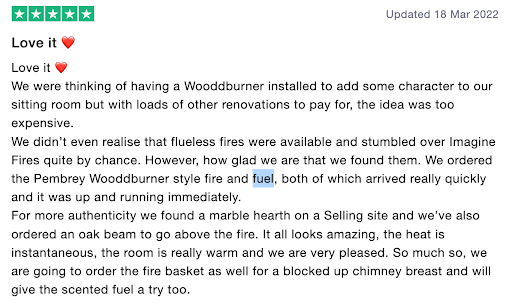 https://www.imaginfires.co.uk/faq/question/ajax/faq_id/58/
Glad to hear it — Thanks for the feedback
Was this article helpful?