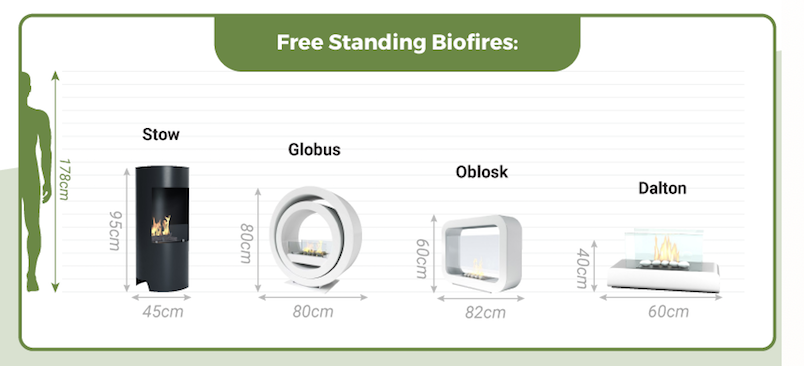 Buyers Guide to Sizing your Bio Ethanol Fireplace

10% off on our Bioethanol Fireplaces. Subscribe Today!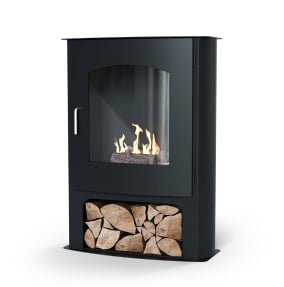 A Comprehensive Fireplace Buyers Guide
To help get your purchase 'right first time', we've put all the dimensions of our range of bioethanol fires in one place and created a fireplace buying guide.
The below image also shows the relative fireplace sizes of each product. We hope this comparative sizing chart is useful for you, but don't worry, if when your bioethanol fireplace arrives it still isn't quite the right fit…you can still return it within 14 days (see full T's and C's page).
Free Standing Biofires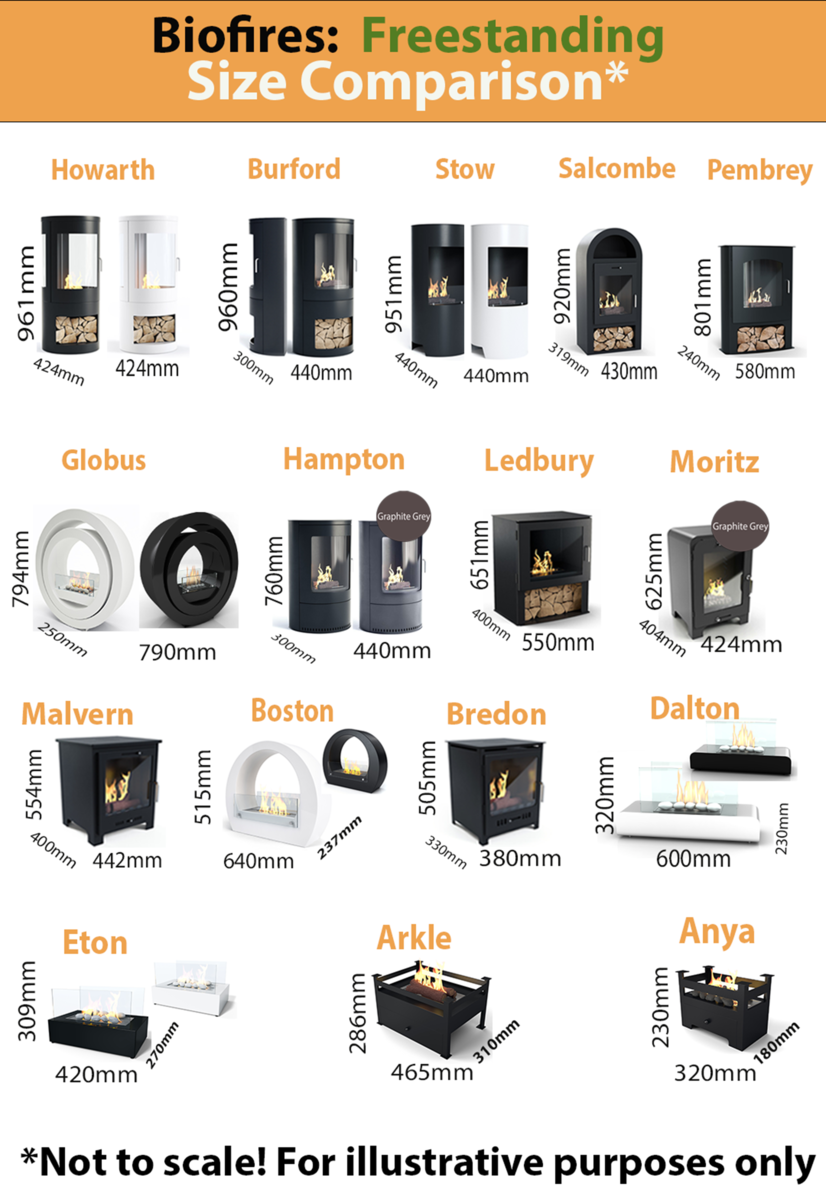 Stow: At 95cm X 45cm this is our tallest free standing bioethanol fireplace and was designed to appeal to those with the look of a classic wood burning stove in mind.
Globus: A compelling round bioethanol fireplace, this measures in at 80cm x 80cm. With a unique double round bioethanol burner design, a sleek finish and twin Borosilicate glass guards, this option adds style and functionality.
Dalton: The petite 40cm X 60cm has the air of understated stylish modernity. Its size allows it to sit on any surface you choose, so it can easily work within just about any living space.
Boston: This freestanding biofire comes it two colours: black and white. A cute semi-circular shape, Boston is created from powder coated iron and a silver fuel box. Its dimensions are 51cm x 64cm.
Woodburner Style Bioethanol Fires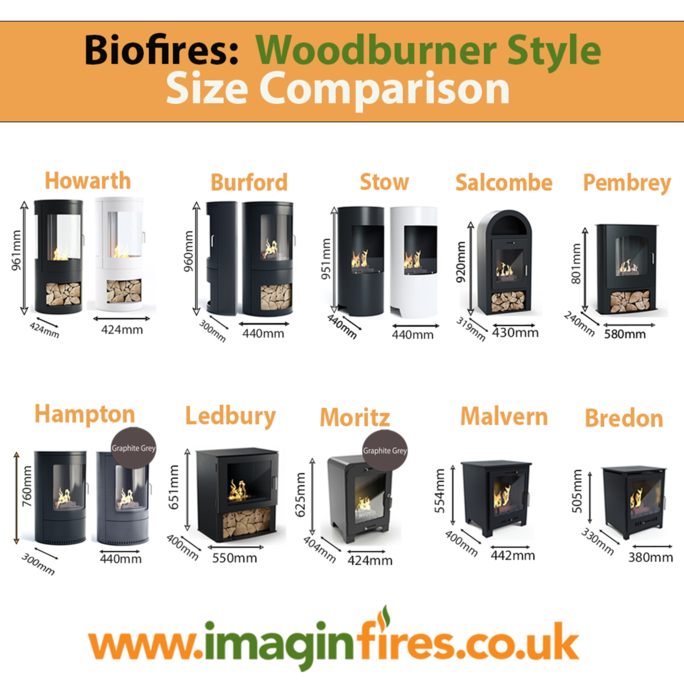 Salcombe: One of our most popular styles of the woodburner range, the Salcombe is 43cm wide, 32cm deep and 92cm tall.
Malvern: Available in both black, the Malvern is 44.2cm wide, 40.6cm deep and 55.5 high.
Hampton: This one has a flat back so fits flush against any wall. Its 44cm wide, 30cm deep and a height of 76cm. Available in grey and black.
Burford: The Burford is the taller brother of the Hampton but still has a flat rear section allowing it to be positioned flush against any wall. It measures 44cm wide, 30cm deep and 96cm tall.
Howarth: Available in black or white, the new beautiful Hampton is one of our largest bioethanol fireplaces and has a rounded rear section and measures 43cm wide, 43cm deep and 96cm tall.
Bredon: A small bioethanol fireplace, relatively smaller than the larger Malvern, the Bredon measures 38cm wide, 32cm deep and 50.3 cm tall.
Stow: A more traditional bioethanol fireplace design than the Howarth, our very popular Stow is available in black or white, and measures 44cm, 44cm and 95cm tall.
Moritz: One of the newest and most contemporary designs, the Moritz is 43.4 cm wide, 40.4 deep and a height of 62.5 cm tall.
Pembrey: At 58.0cm wide, 24.0 deepcm and 80.1cm tall, Pembrey is an impressive member of our family with a delicate design.
Ledbury: With its compact design and flat back, Ledbury will fit into any room. Its dimensions are: 55.0cm wide, 40.0 deepcm and 65.1cm tall.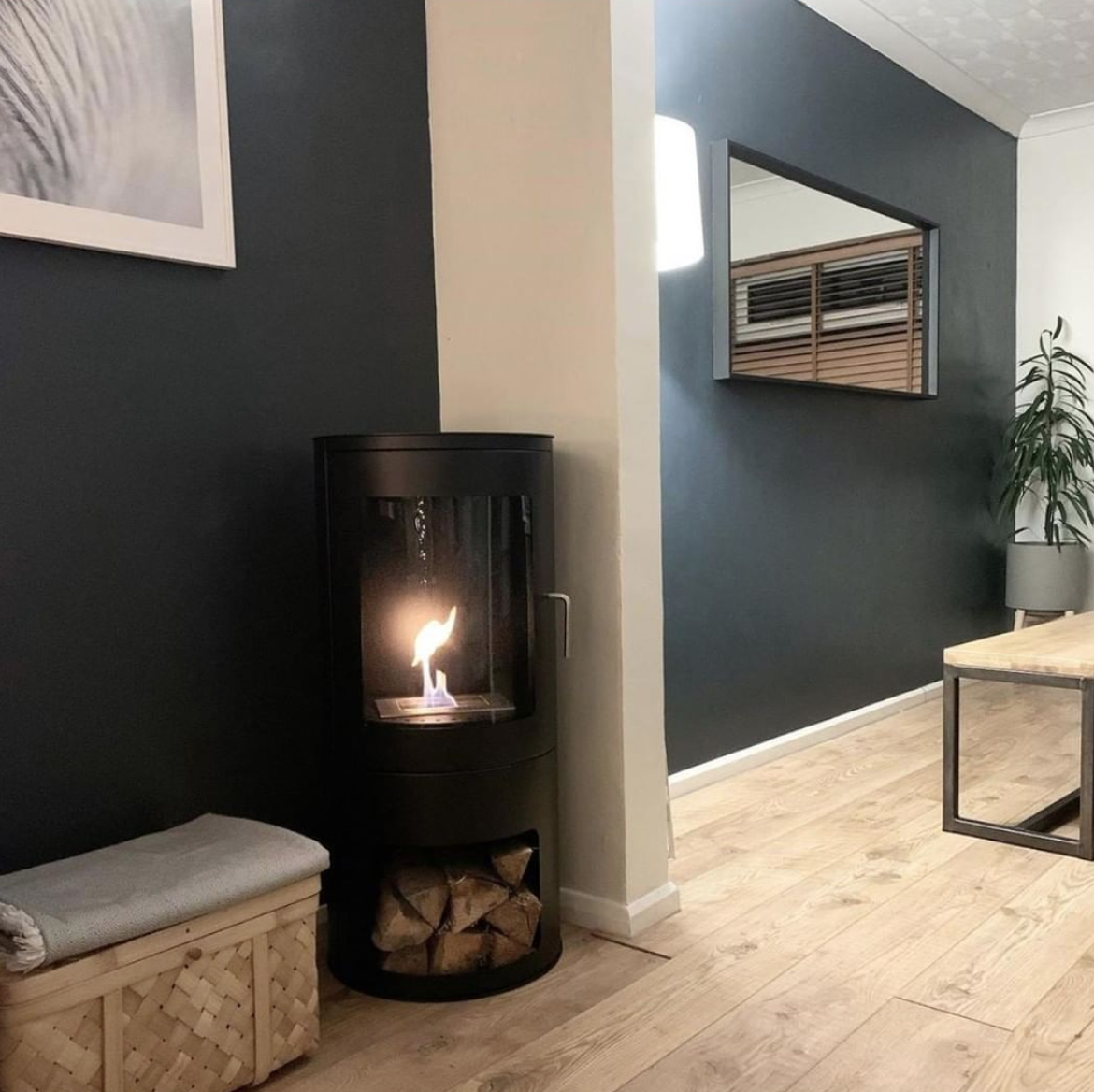 Fire baskets style bioethanol fireplaces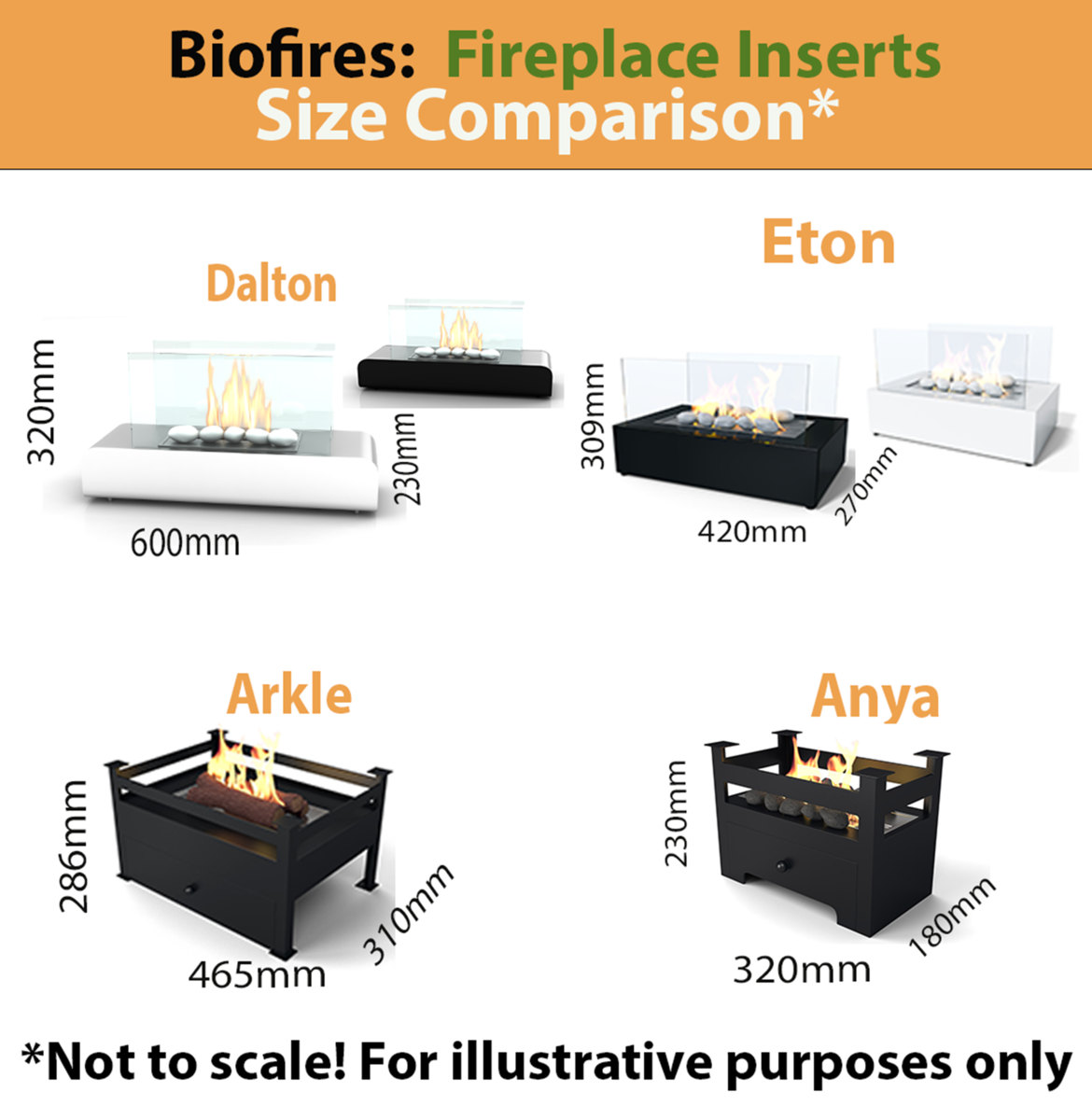 Eton: The 11cm X 42cm Eton biofire is sized so that it can slip comfortably into an existing fireplace. The height to the top of the glass surrounds is 31cm. This unit is a great choice if you already have an existing fireplace and want to make use of the space.
Anya: One of the smallest but still very popular bioethanol fireplaces, the Anya measures just 31cm x 180d and a height of 23cm
Arkle: The larger brother of the Anya, this measures 45.5cm x 32cm and is 29cm high.
Wall-mounted bioethanol fireplace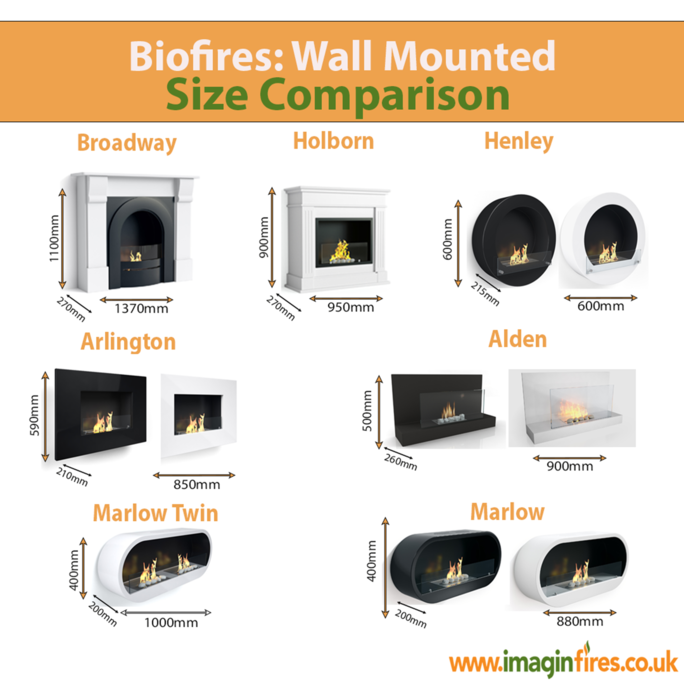 Alden: At 45 cm X 90cm this is one of the most popular designs; unlike Stow, one of our ethanol fireplace traditional designs, it is sleek and contemporary, and works well either as an indoor bioethanol fire or outdoor.
Marlow: This 100cm x 20cm x 40cm high model offers you a twin burner with a smooth contemporary look. Also available as a slightly smaller single burner model, which is 80cm wide, still 20cm deep and 40cm high. The single burner Marlow is also available in black.
Henley: With a 60cm X 60cm circular design this model is a little different. It certainly has style! In white or black.
Arlington: Available in both gloss white and black, this measures 85cm wide x 16.5 cm deep and 59cm high.
Broadway: At 116.6cm wide x 27.0cm deep x 92.5cm high, our Broadway Bioethanol Suite takes the simplicity of a bioethanol fireplace to another level.
Holborn: Another suite fireplace, Holborn will completely transform a blank wall space to a fireplace feature wall within one hour (95.0cm wide x 27.0cm deep x 90.0cm high).
Here at Imaginfires, we are constantly seeking feedback on our ever expanding and evolving range of bioethanol fireplaces.

We are highly focused on making your purchase as effortless as possible and understand that even though we have a hassle free 14 days returns policy it's still important to avoid wasting valuable time returning items simply because they did not fit your intended space.