Property renovation may seem a daunting prospect for anyone who hasn't carried out such a major project before. But for people trying to climb the housing ladder, it's an important consideration.
Houses in a state of disrepair can be a real bargain. They are an ideal way to make your budget go further, enabling buyers to reap financial rewards in the long term.
Similarly, if your existing home has become run-down over the years, a renovation project can be more cost-effective than moving to a new house, and can add value to your property, should you decide to sell in the future.
The most important preparation is to decide upon a house renovation order of works. There's no point in starting a project without a plan of action.
Have a clear idea of your budget to renovate a room, how much each job is likely to cost, the time scale and which areas should be tackled first.
Renovating a house: where to start
Make a checklist

First things first, draw up a comprehensive checklist of everything that needs to be done. It's too easy to come unstuck if you're inexperienced and go rushing into starting renovation work without a schedule of works.
Assess the property's condition
If you're buying a property to renovate, always employ a chartered surveyor to complete a building report, identifying any essential repairs that are needed, such as damp, or any structural issues.
Even if you're renovating your own home, it's useful to commission a survey first, especially in older properties, to investigate areas of concern, so you can estimate the cost of repairs, should any be required.
For example, if you start re-plastering and decorating but then discover the property is damp and needs damp-proof course, you may need to tear off all the new plaster to apply this, wasting time and money.
If you're planning on building an extension, contact a surveyor to complete a measured survey of the property, as this is important for making decisions on design - and also vital if you need planning permission.
Make a budget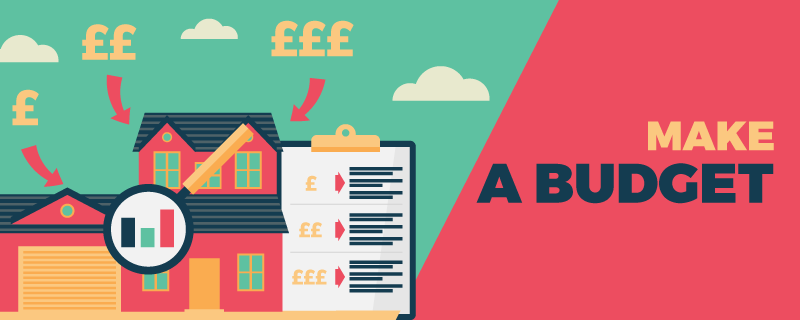 When you're renovating a house on a budget, the last thing you need is to waste valuable resources because you haven't prepared properly for the overhaul.
If there are any issues, deal with them right away. Even seemingly innocuous problems, such as a few loose roof tiles or draughty old window frames, can lead to damp getting into the building. This can spread quickly if left untreated and leave you with a bigger headache in the long term.
Check for grant aid
It's also worthwhile checking if any home improvements grants are available. There are some available for home improvement work and restoration in certain cases, either through local authorities or from central government.
Consider grants before you start any work, as it's too late to apply if you've already begun. The Citizen's Advice Bureau can advise you.
If you need planning permission for any external alterations, you should apply for this at your earliest convenience, too. Don't start any major alterations, only to find you need to apply retrospectively - if it's turned down, you may find yourself pulling down that new extension.
It can take several weeks - sometimes months - for an application to be completed and this can influence which work you can carry out on your property. Similarly, check whether any of your alterations require building regulations approval, a separate entity from planning approval.
Renovating a house: your options
Outdoors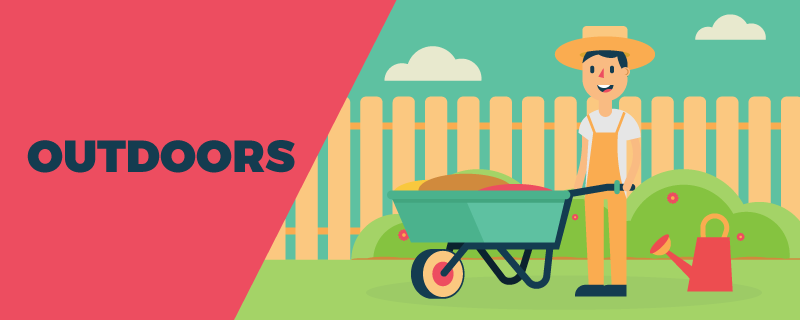 If any renovation work needs to be done outside, it's best to tackle this before anything else. You're likely to tread soil and other debris through your house while the work is ongoing, so it's best to have this out of the way before you carry out indoor renovations.
Landscaping and gardening work on the driveway, flower beds and lawn can work wonders in giving your home a facelift. It's the first thing people see when they walk through your gate, so make it look as welcoming as possible. Your garden should be a pleasant place in which to while away those sunny summer days - not a jungle.
Floors
Old floors can often fail to live up to modern expectations. Whether they're uneven, cold, or simply not attractive, they can be hard to live with. You have the choice of replacing your floor entirely, covering it up, or restoring the old surface. This may depend on your budget.
There are many options, from simply buying new carpets or replacing tired old flagstones to installing laminate floors or ceramic tiles.
How to renovate rooms
Renovating living room
As it's the place where we tend to spend most time, living room renovation is a prime consideration when revamping your home. For many of us, it's a case of carrying out living room makeovers on a budget, aiming to achieve a chic look for a low price.
A quick solution for any living room refurbishment is to replace dark furnishings and accessories with more modern, brighter ones. The room can quickly look drab and uninspiring with tired furniture, wallpaper or painted walls.
The layout of the furniture can also be changed to open up more space. An awkward arrangement of furniture can make the room look cramped and hard to navigate.
Another means of revitalising your living room is to add a cosy bioethanol fireplace, which is easy to install, doesn't need a chimney and burns eco-friendly biofuel. Nothing looks more inviting than the warm glow of a fire with an aesthetically-pleasing surround.

Steps in kitchen remodel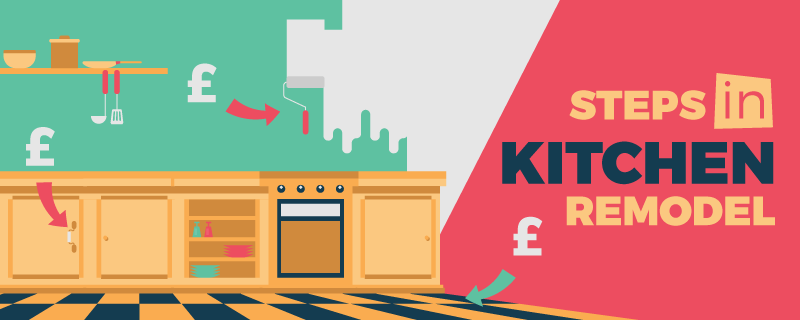 Kitchen renovation should be high on your list of priorities, as it's the heart of any home. If you don't have a large budget, or you don't have a lot of space to play around with, small kitchen remodel ideas can include simply painting the kitchen to brighten it up, or replacing tired flooring with new ceramic tiles to create a modern ambience.
Always use high-quality paint and not cheap alternatives, as this can cost you more in the long term. You may need extra coats to achieve the desired finish and it may not last as long. Use semi-gloss paint on the walls and ceiling, as it doesn't retain moisture and is easier to wipe down.
Buy good quality paintbrushes in a variety of sizes. Cheap brushes may shed bristles and you'll spend half your day picking them off the wet paint. Finish the painting before replacing any flooring - there's always a chance your new tiles will be wrecked with drips, however careful you are.
Small improvements, like replacing tired drawer handles and cupboard door knobs with new modern ones to complement the new décor, can also make a surprisingly big difference.
Bathrooms
Before starting, work out your bathroom installation cost, so you'll know exactly what you can do without breaking the bank. As with every room, preparation is the key. Research shows the average cost in the UK of bathroom renovation is £4,500, including new furniture and installation.
If you're planning on replacing individual units, rather than a complete remodel, you can expect to pay £70 to £100 to install a pedestal basin, £75 to £140 to install a toilet, £130 to £220 to install a bath and £400 to £1,300 to tile a bathroom, depending on its size. Installing an extractor fan can cost in the region of £150 to £240.
If you're looking to make major renovations such as under-floor heating, this can increase the cost considerably.
Bedroom renovation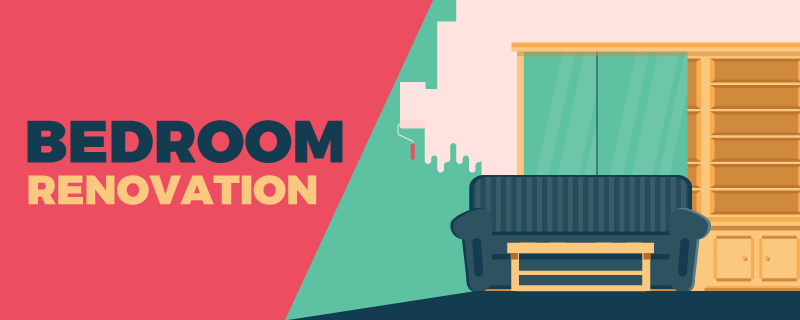 Make the most of your space with a small bedroom makeover, so that it doesn't feel claustrophobic, but instead feels cosy and comfortable. Strategic styling can achieve the desired results. Turn your small bedroom into an extra living room during the day by having a bed settee instead of a bed. Or, if you prefer a traditional bed, buy a divan with built-in drawers for extra storage space.
Have shelves, rather than cumbersome cupboards - think upwards rather than outwards - to create extra floor space. Having a large mirror on the wall can create a feeling of extra space, as can having a built-in wardrobe with mirrored doors.
There are plenty of bedroom makeover ideas that don't cost the earth, yet can create a whole new ambience for the room. Painting the walls a light yet warm shade, such as peach or magnolia, can open up the room, while providing a restful ambience.
Master bedrooms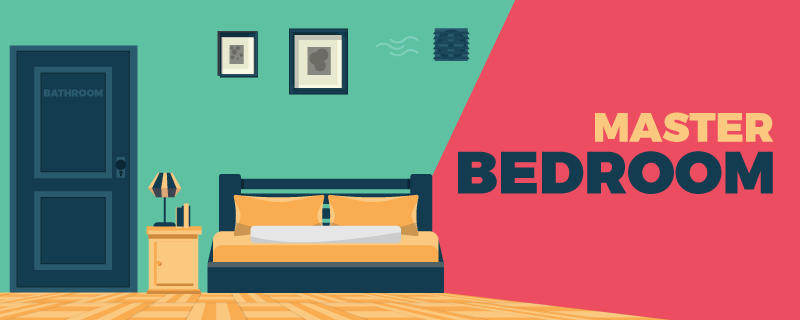 The master bedroom refurbishment is important, as it's your personal haven, where you can relax and shut yourself away from the world. But what does a master bedroom remodel cost?
This depends on exactly how much work you wish to undertake. The average cost of renovating a house in the UK varies, depending on whether you're planning a complete refurbishment, or simply replacing a few items of furniture.
You don't need to buy the highest-priced range to accomplish a tasteful result, but nor should you buy low-quality stuff, as it won't last as long and can be a false economy in the longer term.
House Renovation Costs in the UK
The average UK cost of installing a new built-in closet is £1,834. However, if you're looking for a joiner to build you a stunning bespoke wardrobe, this would cost you in the region of £5,000. Having a new wooden floor laid costs up to £100 a metre, including labour charges.
If you're looking at a major renovation, such as having an en-suite bathroom fitted in the master bedroom, you need to consider factors such as whether you'll need major plumbing work, whether you have enough space, what kind of lighting will be required and whether you'll need an extractor fan to provide adequate ventilation if a window isn't feasible.
The average cost in the UK of adding an en-suite bathroom is £3,000 to £4,000, depending on the features required. With every aspect of home renovation, careful planning is the key. You need to lay out your complete house renovation costs before you begin enacting your plan.
Work out your budget in advance, work out your plan of action and - most importantly - stick to it. Don't go way over budget with renovating a room because you get swept along in the thrill of the renovation, only to find you've run out of money and can't complete other areas that need attention.
If you stick to a clear plan - and keep a clear head - you can transform your home into a castle without too many headaches, creating a more pleasing living environment and also adding value to your property, should you decide to put it on the market in future.