A wood burning stove, especially when it's set in a beautiful fireplace, is a welcome addition to any home. As winter approaches and the colder weather sets in, our thoughts turn to feeling cosy in front of the dancing flames. The fireplace should be the heart of the room - a focal point as well as a source of heat.
When you look at the pictures on the internet of wood burning stoves in homes, you may find inspiration for your own decor, as there are certainly plenty of options available to suit everyone's taste. Bioethanol fires is recently the talk of the town as a flawless substitute for traditional wood burning stoves.
Whether you're looking for dramatic or cosy when you're deciding how to decorate a room with a wood burning stove, read on for 20 great open fireplace ideas...
1. Stone veneer fireplace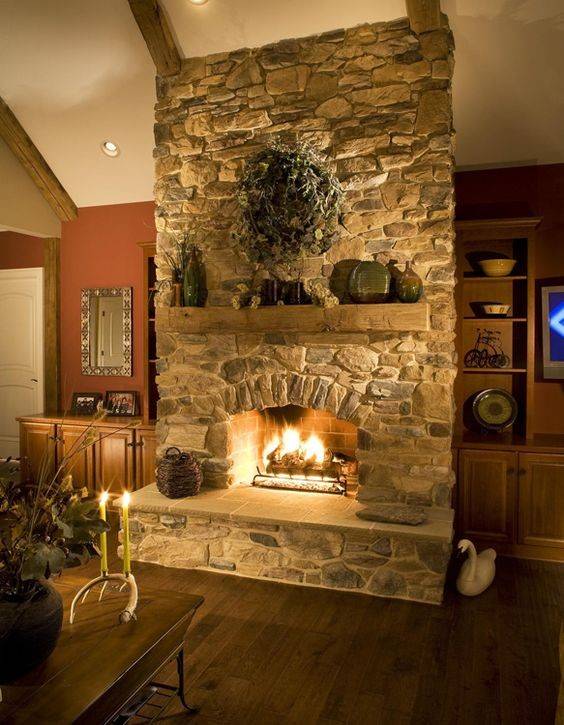 Decorating around a wood burning stove doesn't have to be complicated or costly. In fact, it's possible to build a DIY fireplace surround if you know the basics.
Stone veneer can totally transform the appearance of your fireplace façade by using the traditional, texture-rich building technique of stacking the stones. The technique appears in walls and fireplace surrounds in both modern and rustic homes.
Most home and garden centres, or stone quarries, sell stone facing in one-inch to three-inch thick slabs, in a mix of sizes.
2. Entertainment centre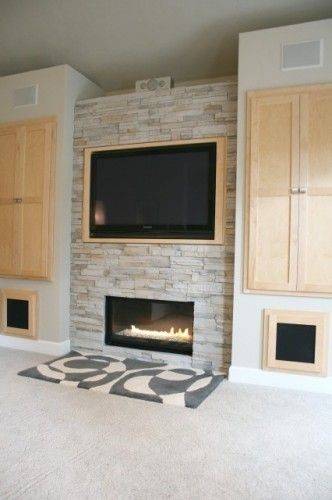 The advent of flat-screen televisions has opened up a new option for innovative wood burner living room ideas.
Placing your flat screen TV above the mantel, or on a brick fireplace's face, creates a dual-purpose entertainment centre that is the room's visual centrepiece.
Nothing could be cosier than sitting in front of the fire and watching TV. This arrangement also frees up floor space.
3. Corner wood burning stove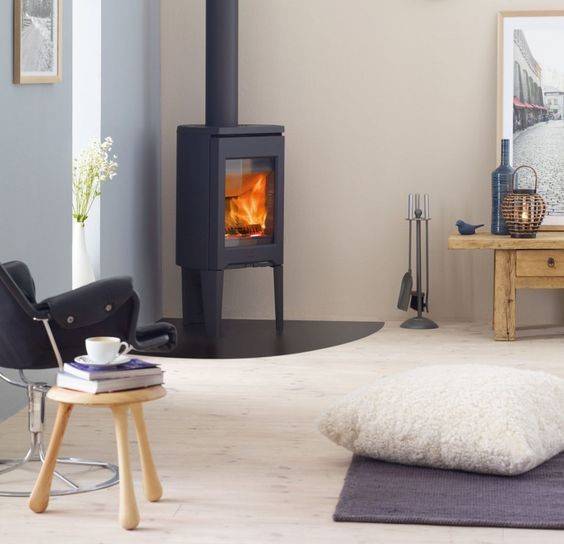 A corner wood burning stove is suitable for even the smallest of rooms, as it won't take up a lot of space and will make the room seem cosy. A corner wood burner fireplace, with a mantelpiece above, creates space for ornaments.
You could use rock, rather than brick, for a more contemporary finish, enclosing the pipe behind the drywall and boxing in the top, with a fire hearth to create the appearance of a real fire. Creative fire hearth ideas can also embellish this design.
4. Wood burners in the kitchen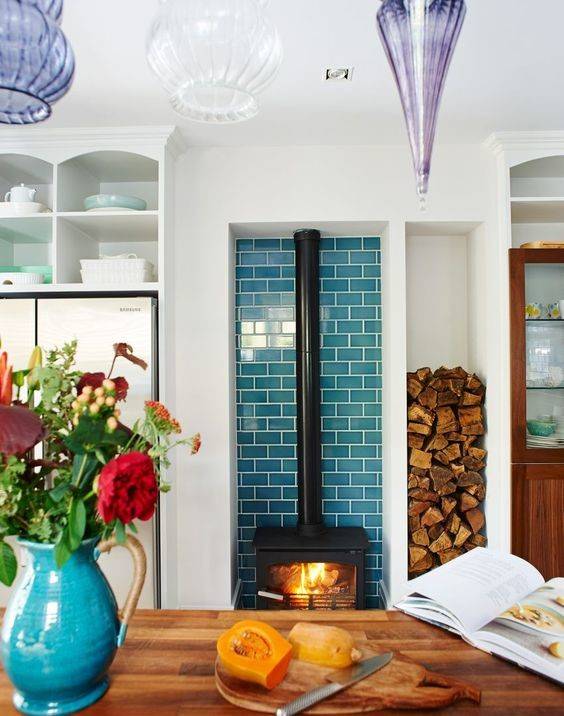 Wood-burning stoves in the kitchen continue to be a comforting and cost-effective way of generating heat in the winter months.
As recently as a century ago, the wood stove insert ideas revolved around more than just a means of generating heat: it was usually the only surface on which to cook as well.
With careful planning, your large or small wood burning stove can be blended in as part of the kitchen units - and if there's enough room on top, you may even be able to use it with suitable pots and pans.
5. Alcove ideas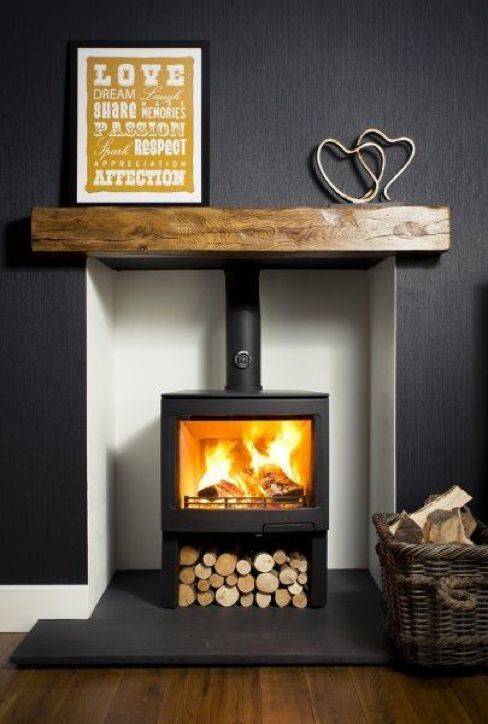 If you're looking for wood burning stove living room ideas, achieve a contemporary look by choosing a dramatic black wood burner and mount it on a hearth of black tiles.
Leave precision-pointed bricks behind the stove and fit a solid wood mantelpiece. Finish off the look with contrasting cream-painted walls.
6. Minimalist look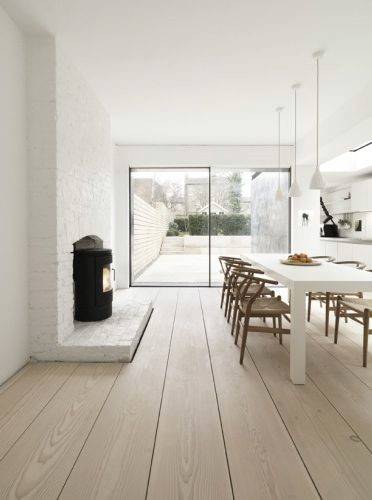 Wood burner decorating ideas don't have to be elaborate - try a minimalist approach for a dramatic, contemporary look in a black and white fireplace finish.
Set the wood burning stove back in the wall, with a black fireplace set on to a white-painted wall. Black and white furniture complement the look.
7. Rustic fireplace
Stone-faced and river-rock fireplaces can look stunning, but their massive shape can take over the room.
To counteract this, install a light-finish or white-painted simple mantel shelf to give your fireplace a lift. You will also have a display ledge for ornaments that can complement your colour scheme.
8. Antique effect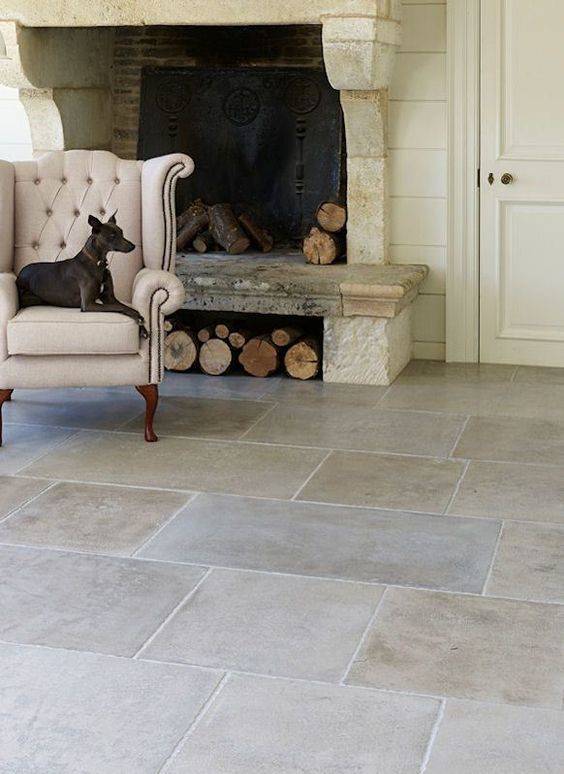 Try reproduction cast-concrete mantels or antique limestone to add a sense of age to Spanish, Tuscan and French interiors. Raised motifs, a distressed patina and crown moulding details will create a memorable mantelpiece.
A light-coloured log burner fireplace nestling in the centre of the structure will create visual impact.
9. Country living room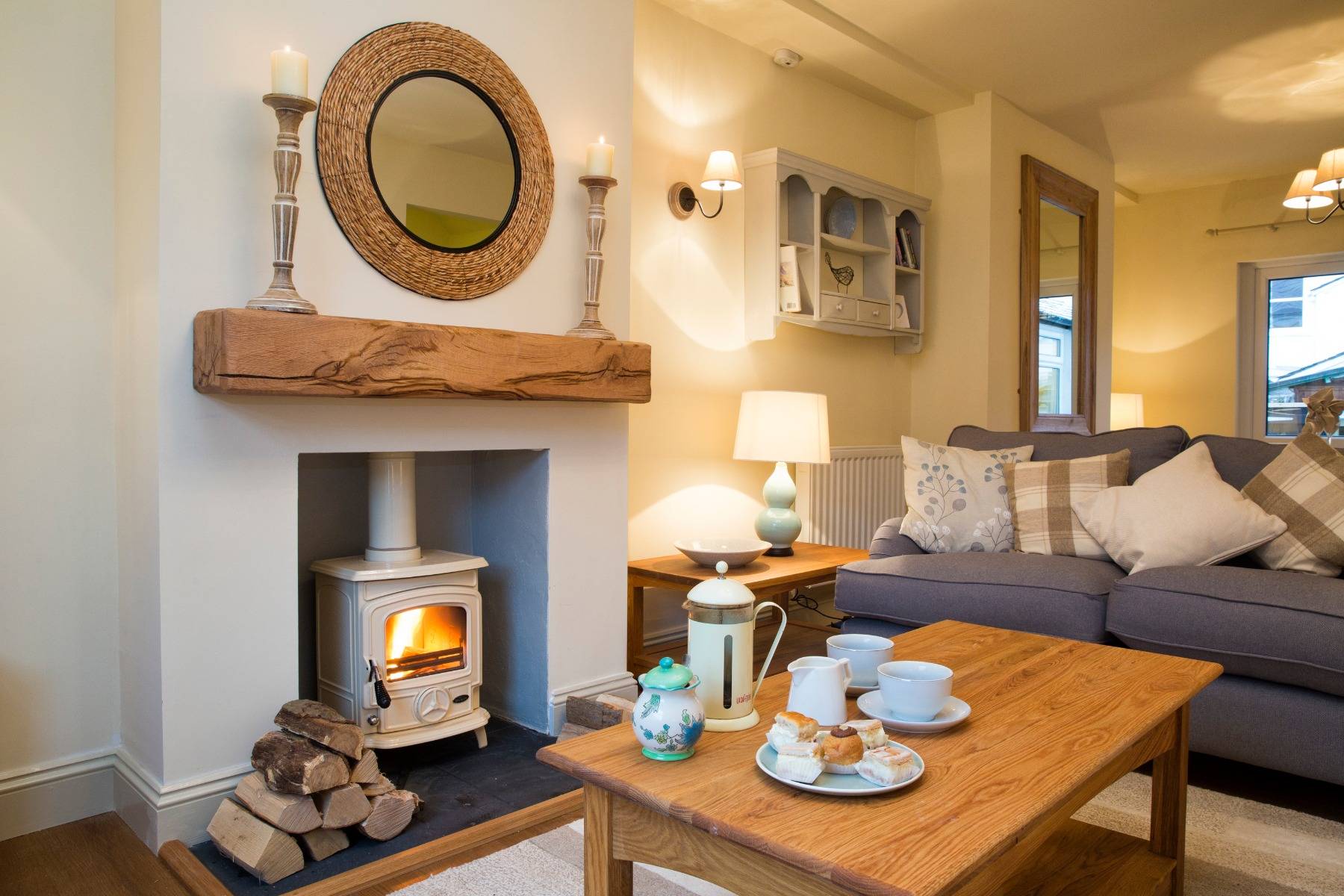 A cream wood burner fireplace can help create the classic cosy country living room. Arrange comfortable sofas around a classic wood burner stove with a cream finish to create a light, bright, clean appearance.
A wooden mantelpiece adds a contrast of texture and colour, while you could keep a stack of logs in the alcove for a rustic appeal. Add cosy throws to the settees that complement the décor around the fireplace.
10. Open plan living room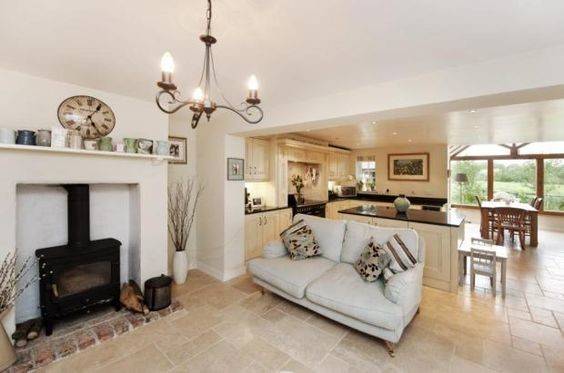 One of the best wood stove ideas for living rooms is having a double-sided wood burner fireplace as the centrepiece of an open plan room. This may involve a little more work, but it is worth it.
Open fire ideas
If you knock down a wall to create the open-plan living room, keep the chimney breast and fit a free-standing fireplace, a log burning stove. This small open fireplace idea will provide provides an eye-catching focal point and radiates heat all round. It's important to employ a skilled contractor if you're making structural alterations.
11. Brighten it up!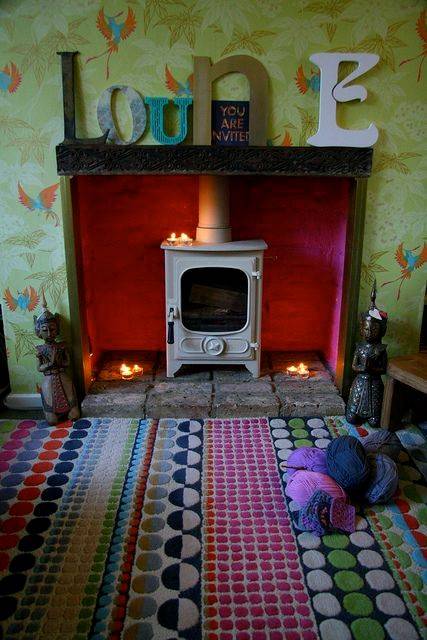 Add a splash of colour to your décor with a brightly-coloured wood burning stove. Try tiling the hearth and chimney breast with shiny black tiles in a uniform shape and size.
Laminate the surrounding floors to create a striking contrast - then add your splash of colour with a log fireplace in an interesting hue. The flue should be the same colour as the stove so that it contrasts against the black tiled chimney breast.
12. Metal artwork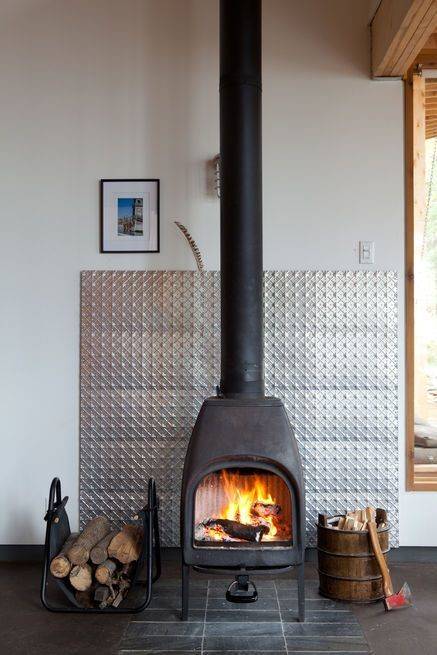 In winter, your wood burning stove is in constant use, but in summer, it can feel a bit redundant. Make it an all-year-round attraction by placing wall art above to provide visual interest.
Metal wall art items can be eye-catching and are made in a range of styles and colours. Add a metal bucket for logs near the stove, providing a practical use, as well as an aesthetically-pleasing look that complements the metallic wall art.
13. Put the kettle on!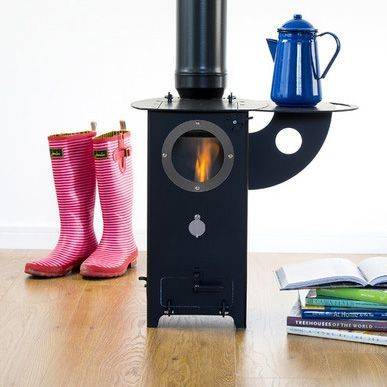 Place a shiny or brightly-coloured tea kettle on top of your wood burner fireplace, in the centre, so long as the surface is flat. This adds a homely effect, but also serves a purpose: if you keep water in it, this will add humidity to the room.
14. Accessorise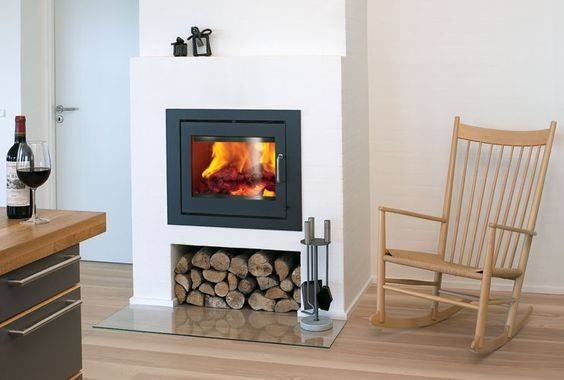 The fireplace isn't there just for safety purposes - it's also part of the decoration. As such, it can be accessorised in a practical way, which doesn't interfere with its safety aspects.
For example, adding a fireplace set makes cleaning up much easier and can be a bold addition to the décor if you choose brass or cast-iron tools with decorative, ornate handles.
Buy a set, including tongs, a brush and an ash-scraper, to help clean up and to look interesting when not in use.
15. Classic cast iron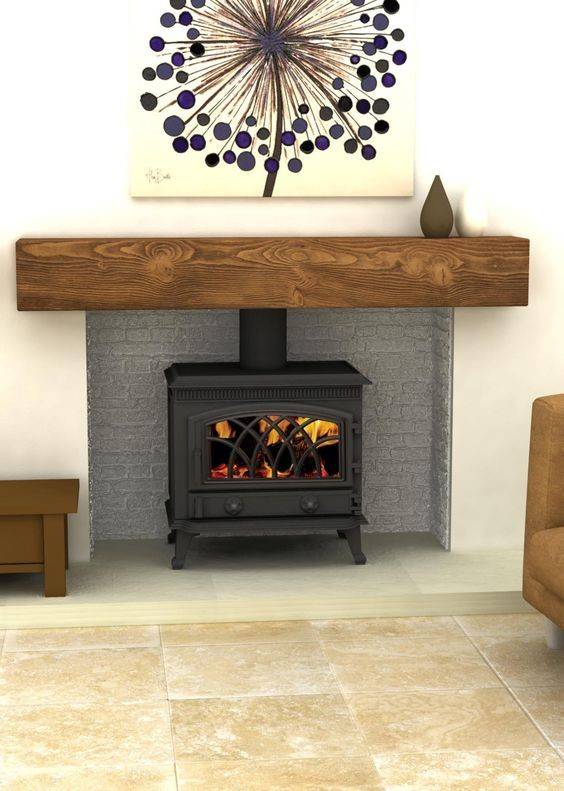 If the fireplace area and the opening itself are small, choose a compact wood burning stove that has a lot of impact, such as a cast iron design, with matching black marble hearth and mantelpiece.
It can be brightened up by some colourful panels at either side, using mosaic tiles, for example.
16. Raised hearth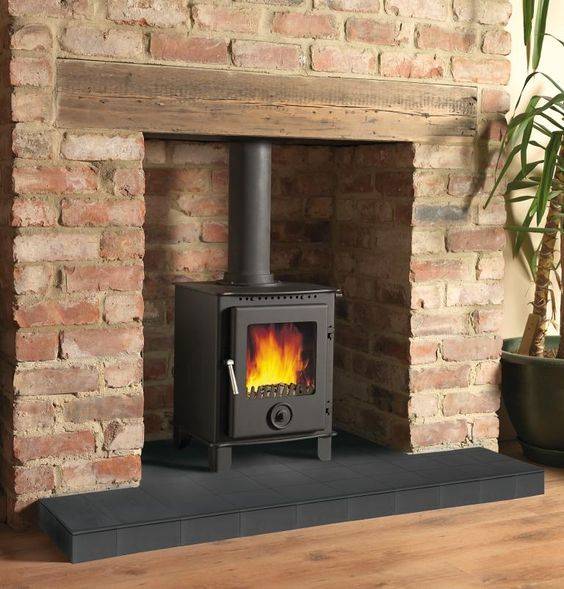 A raised hearth fireplace can look stunning. Add a stone hearth that's twice as deep as normal and add wood-effect shiny brown tiles for the surface.
Slim stone in different shades of grey and cream create an almost stripped effect for the fire surround for stoves and many other stove surround ideas can be derived from this dazzling look.
Top it off with a cream mantel to complete the look.
17. Use suitable materials!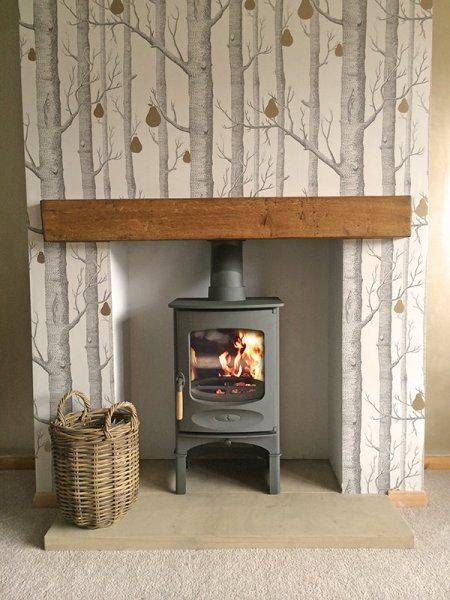 You may wonder if you can wallpaper around a contemporary log burner in the middle of room or any wall covering behind a wood burning stove - in terms of safety, the answer is no. The general rule is not to wallpaper your chimney breast decoration.
Here's some chimney breast ideas: you shouldn't put any flammable material on a chimney breast, as if it ignites, you could set the whole place on fire. Safety rules exist for a reason - combustible material is anything that's not A1 fire-rated, including plasterboard.
Make sure none of the materials you're planning to use could be dangerous.
18. Unusual shapes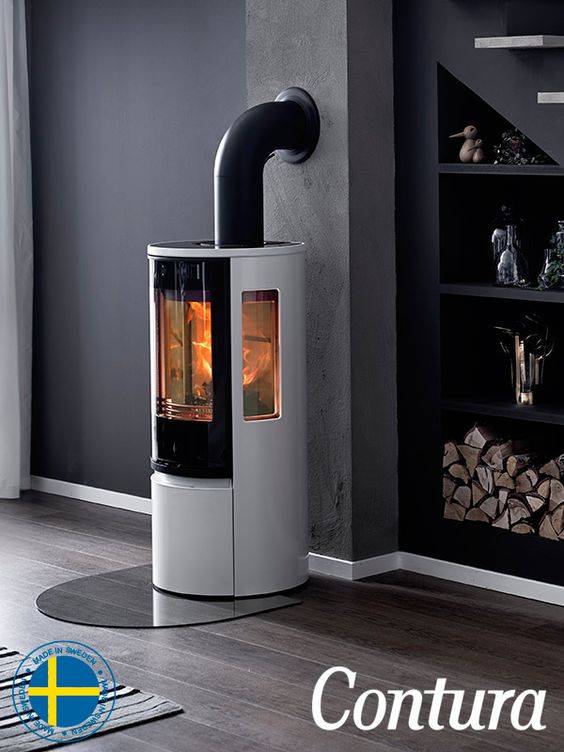 Wood burning stoves come in all shapes and sizes - check out the multitude of online images of wood burning stoves in modern houses as proof of this!
Take your inspiration from Scandinavian-style interiors and install a tall, thin, cylindrical-shaped wood burner stove in white.
Have white walls, a light-coloured stone floor with contrasting rugs and light-coloured furniture with contrasting throws to create an airy, spacious feel.
19. Larger spaces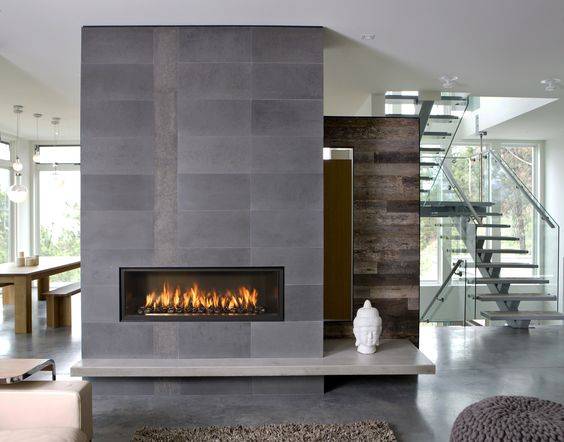 If you have a larger space to fill, have a larger wood burning fire insert on to the main wall.
Choose a wide design for your wood burner and have it surrounded in a jet black, metallic frame, so it looks almost like a living painting or a television screen. The wide frame creates an instant focal point. Alternatively, explore inset fireplace ideas for your prefered design.
20. Centrepiece of the room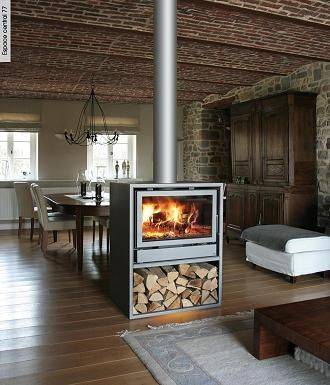 If you have an extra-large room and you're looking to make the wood burning stove the centrepiece, you can go for something truly spectacular. Using a double-sided stove, have a closed hearth made from tall, thick slabs of granite.
It can be as tall as you like, to make a bigger impact. Contrast with a silver flue pipe, a silver bucket for logs and silver tongs and other accessories at the side.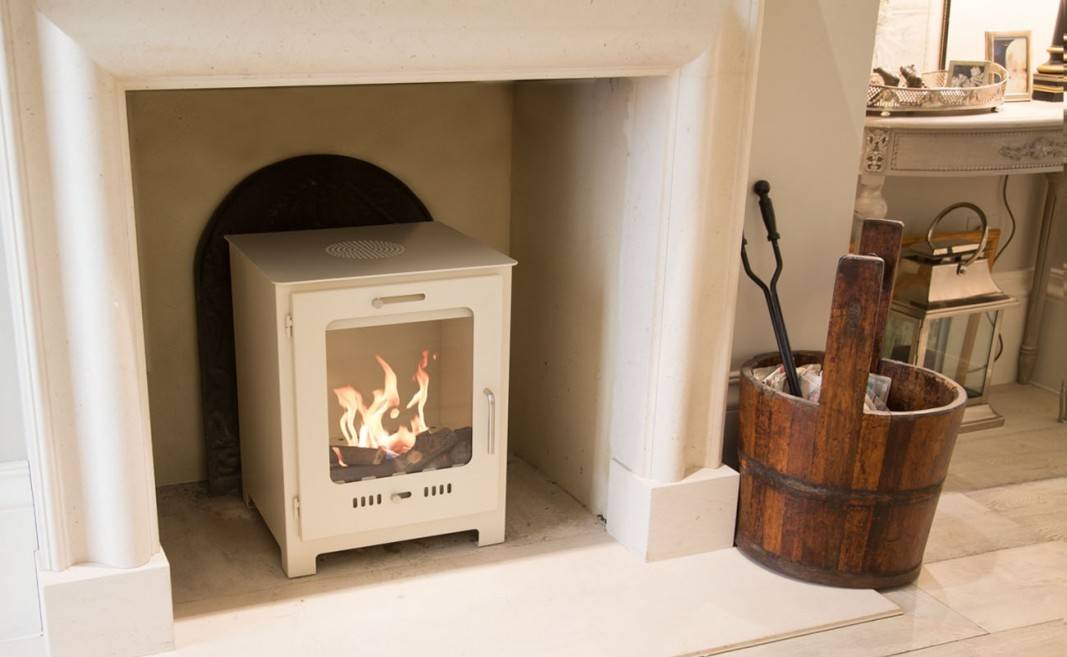 Conclusion
Always remember that when you're looking for log burner ideas for fireplaces, there's an alternative which is easier and cheaper to install: instead of a log burning stove, try a modern bioethanol fire instead. It can be cheaper to run and has other benefits, including that you don't need to have a flue installed.
Its free-standing nature means it's easy to decorate around a bioethanol fireplace, as you can simply move it out of the way until your decorating is finished.
As an increasingly popular option to log burning stoves, bioethanol fires come in many sizes, colours and designs and can heat your home, you can also place them outdoors, creating a cosy atmosphere in winter, while offering a more environmentally-friendly alternative to traditional wood burners.