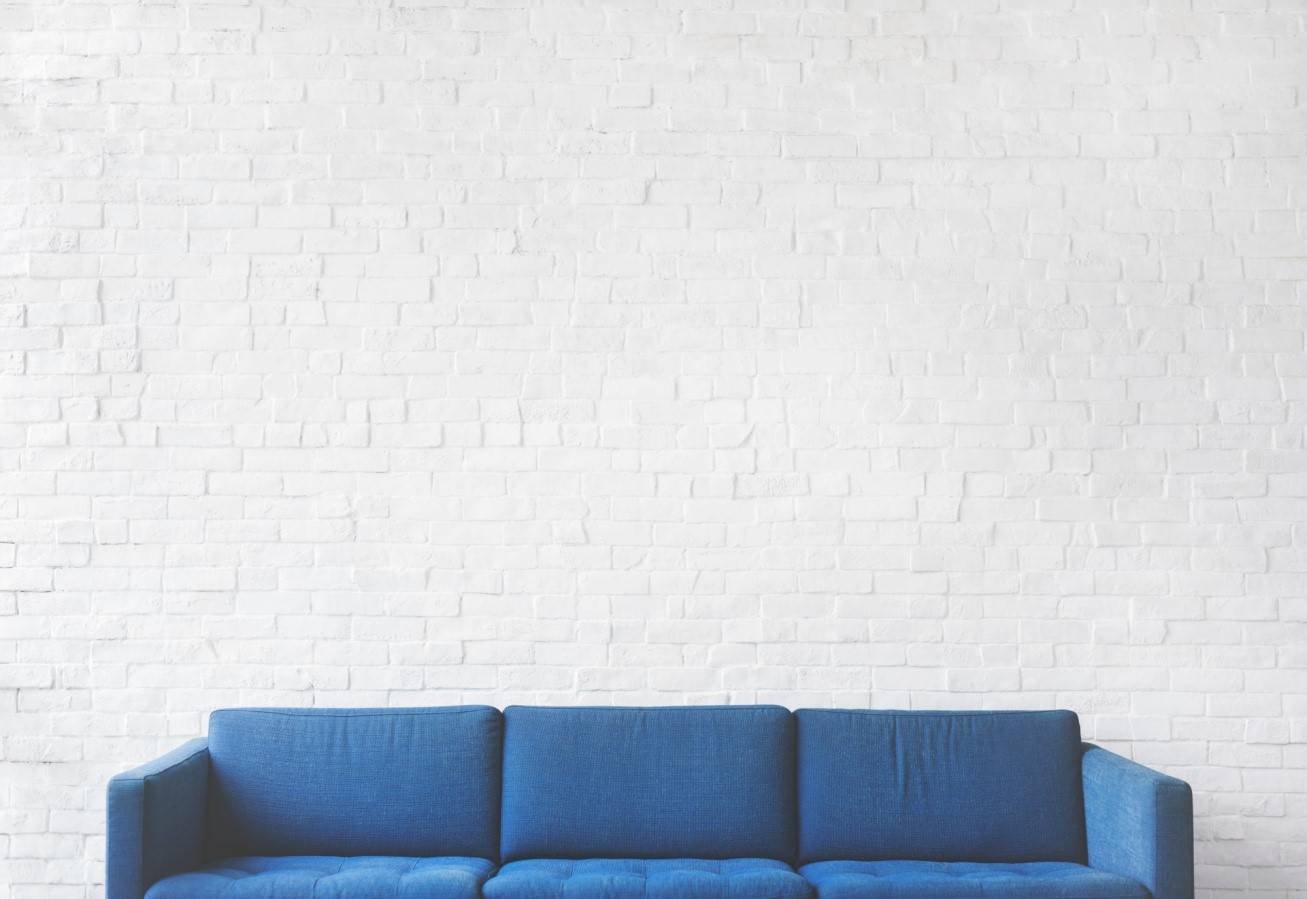 Source: pexels.com
Embracing a minimalist aesthetic is a fantastic way to update your living room.
Warm minimalist décor can turn a room from a cluttered, oppressive space to somewhere bright, clear and calming.
Furthermore, the genre of minimalism encompasses a whole range of interior design sub-genres that will provide you with plenty of opportunities to get creative and personalise your home.

The main thing to remember about minimalism is, of course, that less means more.

The following minimalist home design ideas are just a few nuggets of inspiration that should help get your creative juices flowing.

1. Appreciate the power of the white wall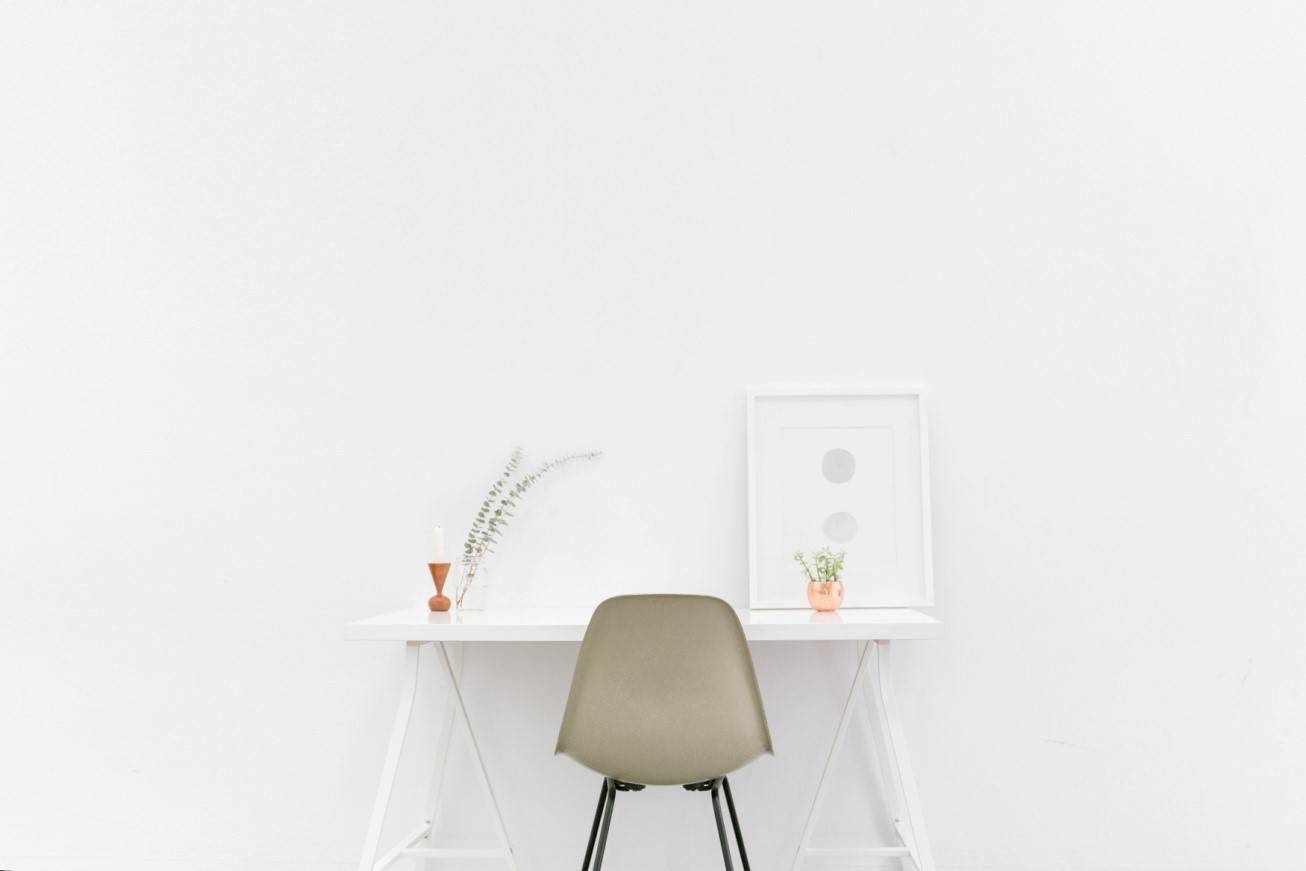 Source: pexels.com
White walls are a fantastic blank canvas on which to project your own personal style while maintaining a minimalist aesthetic.
This living room, for example which is owned by fashion designer Erin Beatty and filmmaker Lex Sidon, is a testament to the versatility of a white washed wall.
Its simplicity has allowed the pair to incorporate their own wall art and colourful upholstery in a way that looks effortless, as well as adding a sense of airy lightness to the room itself.
If you decide to go down the white wall route, remember to balance out the starkness of the white with a range of warm colours in the furniture, wall art or upholstery.

2. Be ruthless when it comes to decluttering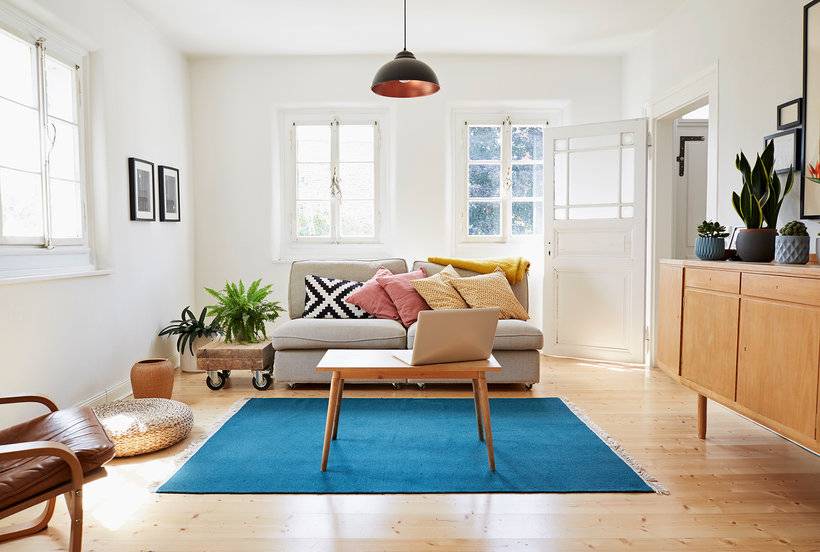 Source: pexels.com
We all know that a cluttered house can be anxiety-inducing at the best of times, something that was recently backed up by a scientific study. According to recent research conducted by experts at UCLA, women who live in messy environments are more likely to have high levels of cortisol, a hormone related to stress.

Decluttering, then, is not only a great way to embrace minimalist living room design ideas, but a way to improve your health .
Start by getting rid of your small and unnecessary items from draws, closets and shelves. After completing this step, work out how much storage space you truly need in your living room, and purge any items that are surplus to requirement.
Any items you deem unnecessary can be sold or donated, meaning your decluttering can be doubly beneficial by improving the look of your living room and drawing in a little extra spending money to put into wall art, paints or fresh new light fittings.

3. Deck your rooms out with clean, smooth and minimalist wood
Wooden interiors and exteriors have a certain rustic charm, and are virtually fool-proof when it comes to chic and attractive minimalism.

This architectural wonder in Hungary, for example, looks high end and sophisticated despite its simplicity.
The soft grain of the wood adds enough detail and intrigue to avoid making the room look drab, while the minimal amounts of décor or furniture pieces give the space an airy feel.

4. Consider your seating arrangements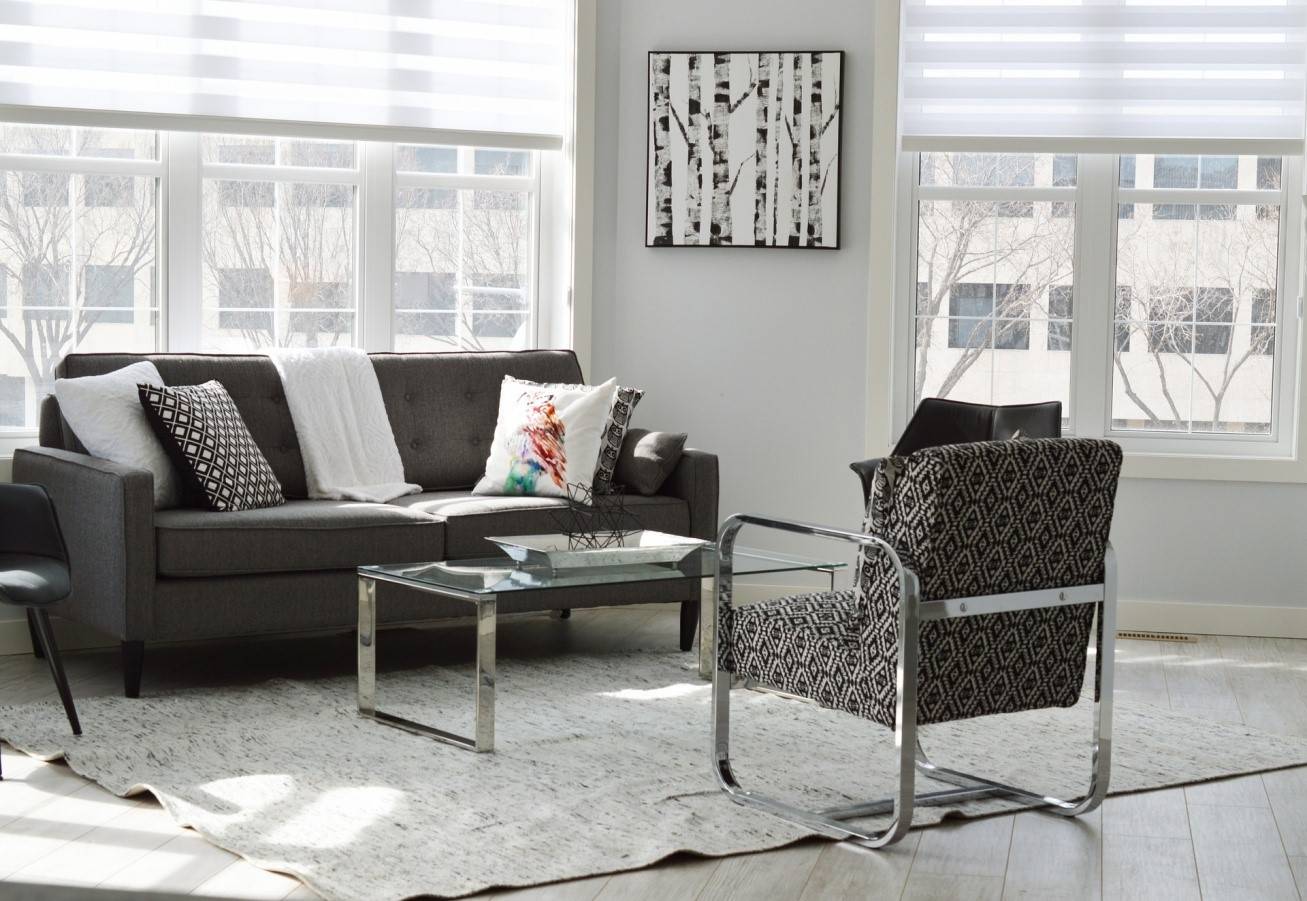 Source: pixabay.com
A living room needs a comfortable set of sofas and chairs to be functional.
It is the home's hub of sociability and relaxation, after all. In keeping with minimalism's no-frills rules surrounding furniture, sofas should be tassel-free, sleek and angular, avoiding any special patterns or adornments.
In terms of colour, neutrals such grey, beige and black should work well in virtually every minimalist living room decor. For those who would like to add a little pop of colour to an otherwise neutral room, choosing something bright and bold can make a real statement.

Ultimately, obtaining minimalist furniture for a living room is straightforward once you've hit upon your colour scheme and have worked out the dimensions of your space.
In order to keep your living room feeling uncluttered, it may be a good idea to stick to models of sofa that fit well to your walls, accounting for all of the room's nooks and crannies.
This will allow you to retain plenty of floor space. Simply make sure you measure your room accurately before committing to certain models of sofa or chair.
5. Invest in some pendant lights
A major trend within the world of minimalism is for soft lighting that spotlights eye-catching elements of a room. Fitted ceiling spotlights are one way to achieve the look, blending effortlessly into a minimalist room.
However, they can feel a little cold and impersonal, and are perhaps better suited to bathrooms, kitchens or hallways.

Pendant lights are an excellent way to add personality and charm to a room while maintaining the minimalist aesthetic.
Essentially, they are small, low-hanging lights that provide a soft glow around a space.
What's more, they are very versatile and can be personalised in a way that allows you to leave your mark on your living room.
Check out these fantastic DIY pendant lights for a little inspirational spark.

6. Bring nature indoors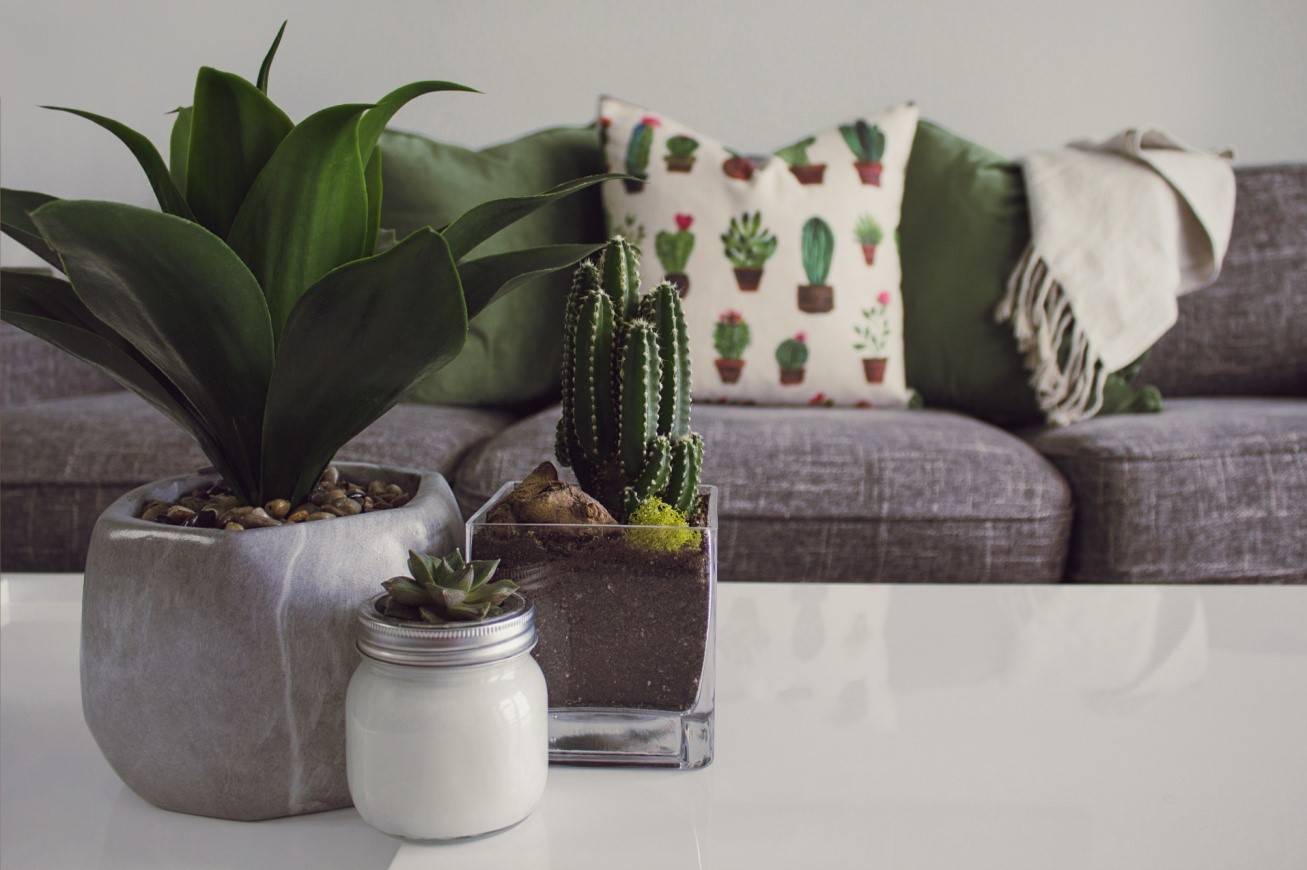 Source: pexels.com
Plants can add a real sense of sophistication to a room, as well as lifting the mood of occupants and visitors.
For a minimalist aesthetic, you will need to do away with intricate vases or brightly coloured flowers, opting instead for wilder looking plants that do not require excessive amounts of pruning or care.
In this way, your room will continue to look fresh and beautiful with minimal effort.

To achieve the look, draping ivy around the wall of your home is one way to go.
This video:
Provides a little demonstration of how this can be done, as well as illustrating how beautiful such a simple plant can look in a minimalist living room.

7. Source some botanical wall art for a fresh and contemporary feel
Finding the right wall art for your minimalist living room or apartment can make for a real headache. On the one hand, if the furniture, walls and upholstery are fairly muted and neutral, you can afford to have a little leeway when it comes to the wall art.
However, anything too loud or brash can feel a little dated or out of place in a minimalist living room.

Botanical prints can be a good way to go for the minimalist decorator, as they are almost always simple, beautiful and affordable.
They may be especially suitable for those without the space or time to care for real house plants, as they inject a little bit of the natural world into a space.
The following designs are just a few examples of the kinds of prints that would blend perfectly into a minimalist home.
8. Think about how much technology you need in your living room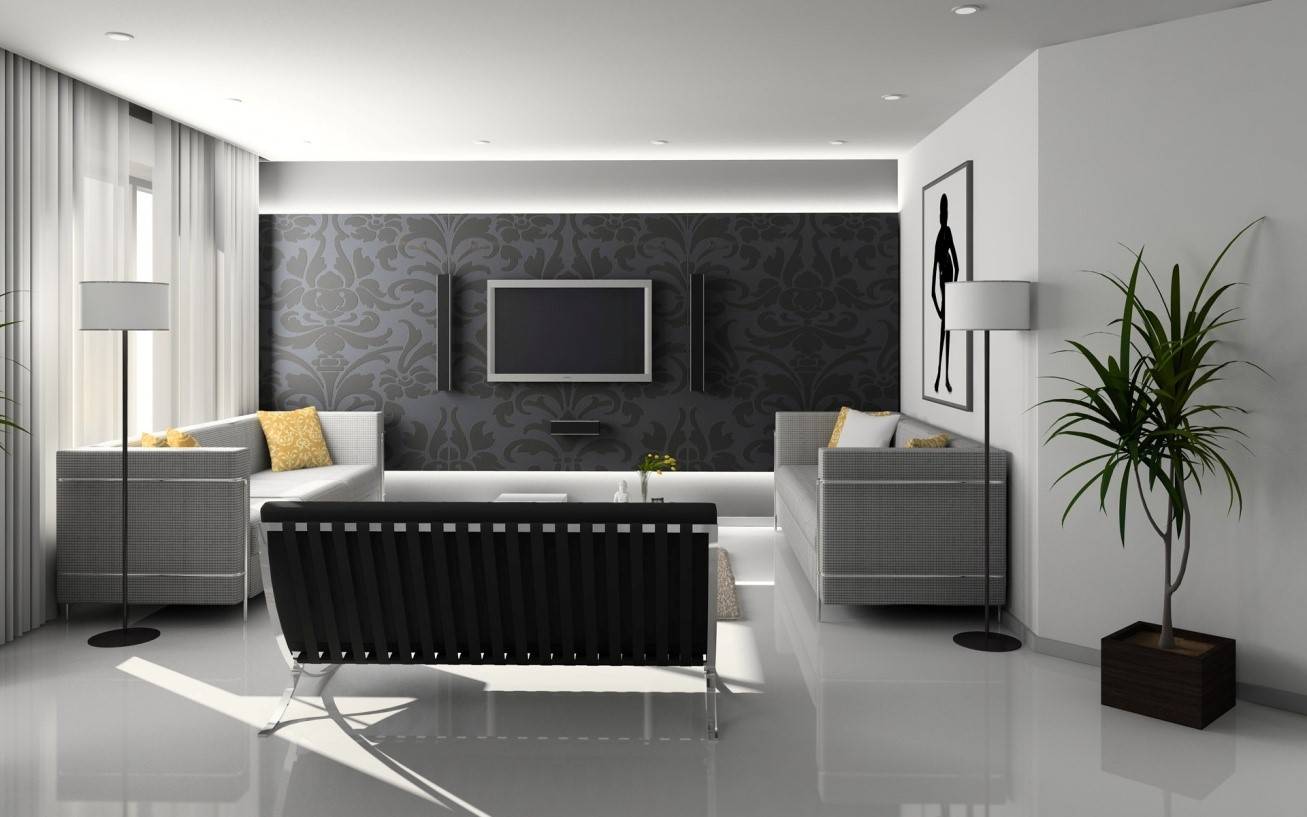 Source: pexels.com

Advanced technology is becoming increasingly ubiquitous in today's living rooms.
From artificial intelligence machines such as the Alexa to complex entertainment systems that allow one to stream endless movies, TV shows and music on demand, it is difficult to avoid technology in the twenty-first century home.

For those hoping to achieve a modern and minimalist aesthetic in their living room, however, so much technology can get in the way of a clear and clutter-free space. Large TV monitors or speakers, for example, are not necessarily the prettiest of objects, and can take up huge amounts of space that might otherwise be filled with more interesting objects.

In this way, it is important to assess exactly how much technology you feel your living room needs.
Ultimately, those who prefer a minimalist aesthetic are often averse to an overload of information or objects, so it may be a good idea to purge a room of distracting technologies.
This article from Medium provides some great insights into the key tenets of a minimalist lifestyle, as well as offering some tips on how you can strip your life and your living room down to its bare essentials.
Doing so can have a real positive impact on your quality of life.

9. Consider how you are going to make the room warm and welcoming
It can be tricky getting the balance right between cosy and cold when it comes to minimalist design.
Anything too bare, and the living room can start to feel a little clinical. Anything too cluttered, and you may find yourselfbetraying the minimalist ethos.

One great solution to this is to invest in a bio ethanol fireplace.
Environmentally friendly, warm and aesthetically pleasing, a modern log burner fireplace can add a real sense of coziness to a space, while avoiding the dangerous particulate matter emitted by traditional models.

Cozy minimalist decorating does not have to be difficult.
To find out how easy installing and maintaining a bio ethanol fireplace can be, take a look at this video
Alternatively, get in touch with Imaginfires today. One of our highly trained and friendly staff will be more than happy to take your call and help you on your way to achieving the modern minimalist living room of your dreams.

Did the above minimalist living room ideas fare well for you? Share your thoughts!