Chimney breasts are common structures, especially in houses that were built a few years back. Some have functioning fireplaces, which is great for a cosy, comforting and warm home environment.
But in many homes, the fireplace has long since been removed, and you just have an odd space to fill out. Don't panic! We have some great chimney breast fireplace ideas and tips to make your chimney breast unique.
A chimney breast usually projects forward from a wall. This is because a fireplace requires depth to function without compromising the structure of the house. In other words, the chimney breast sticks out and this dead space can dominate a room.
As the fireplace was once the major source of heat, it is often located at the centre of the room, so how can you make this very obvious dead space into a more aesthetically pleasing space? Check out the following chimney breast ideas.
1. Fireplace space ideas
If you have a functioning fireplace, there are many ways to make it look great:
Consider going green and choose a bioethanol fireplace insert. These are eco-friendly alternatives to wood burners and are available in stylish and practical designs.

Bioethanol fireplaces

have many benefits: they are cleaner, have easier upkeep and they are safer than traditional

woodburning fireplaces

.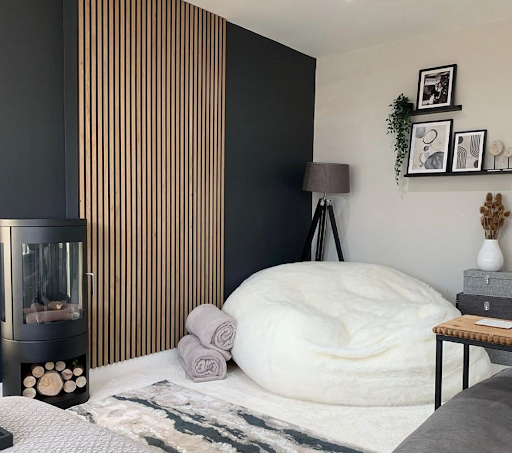 Install a mantelpiece to display art and family photos. Because the fireplace is the central piece of your living room, this is a great spot for family heirlooms and framed memories

Add depth by painting the wall above the fireplace in a different colour. You can choose colours in the same palette or contrasting colours for a more dramatic effect.

Exposed brick chimney breasts with log burners are very trendy right now, so check out what's underneath that paint or wallpaper!
2. Wallpapering a chimney breast
Wallpaper is a great chimney breast decor option because you don't need to bring in the construction crew, and there is a wide range of prints, colours and even textures. While the process is fairly easy, there are some aspects that you need to consider:
Measure carefully and get a few extra feet of wallpaper in case there's damage while installing.

You cannot wallpaper the space around a burner or stove because of fire hazards. This is an option to cover your chimney breast completely, or when your fireplace is no longer functional.

There are plenty of YouTube videos with very useful guides to wallpapering your chimney breast, hassle-free.
If you are going for minimalist vibes, choose a wallpaper made of natural materials and lighter colour shades.

If you could not find those coveted red bricks on your chimney breast, there's a wallpaper that looks like it! And some brands even have textured surfaces for a very realistic effect.
3. Tiled chimney breast ideas
Ceramic tiles are great for a uniquely designed chimney breast. There are many options regarding price range and quality, and some manufacturers even offer textured tiles for a unique look.
Fancy creating your own piece of art? This is your chance. Whether it is an intricate mosaic or just a few patterns to create contrast, your chimney breast will definitely be one of a kind.
4. Paint can go a long way
If you don't have the time or the resources for a big renovation, don't worry. Adding some fresh paint can make a very big difference. You can choose solid colours or create textures with elements like sponges. If you are looking to add some details, consider using stencils with fun shapes and patterns.
5. Lights in chimney breast
Decorators are always talking about the importance of proper lighting. Lights can completely change how a room looks, and more importantly, how a room feels. Here are some tips:
If you have a functioning fireplace, keep artificial lighting discrete.

LED strips

are perfect to accent textures without being too bright

Choose yellow light over white. It's warmer

Create many sources of lighting with lamps

Point lights directly to the aspects of your chimney breast that you want to accent
6. Use technology to make your chimney breast decor unique
Are you into Scandi design? Or do you prefer a classic English style? Or maybe you want a more industrial, minimalist look? There are many ways to highlight your chimney breast and make it stand out.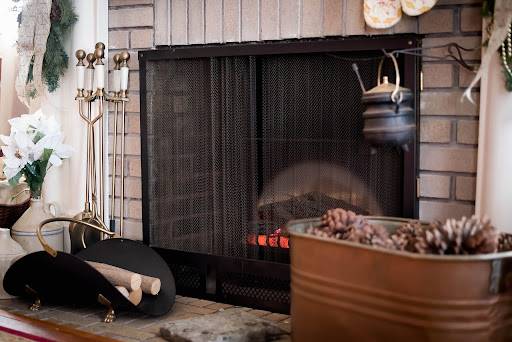 What's great about modern technology is that you can see what your chimney breast can look like before actually changing anything. Interior design apps let you upload pictures and play around with colour and design elements so you have a better idea of what you really like.
Some of them even link to manufacturers and stores in which you can get everything you need to make your ideas come to life.
7. No functioning fireplace? Add shelves
A chimney breast can be difficult to transform because it's a structure that's built into your house. Before you consider demolishing, why not turn it into shelves to display decorative pieces, plants or even books? Shelves are cheap and easy to install, and with a fresh coat of paint, you can create a beautiful ensemble.
8. Storage is always a good choice
Adding doors to a chimney breast can be really easy, and with some added shelves or drawers, you can have a functional and stylish storage area. This idea is especially good when the chimney breast in question is in a bedroom or in the kitchen.
9. Very large chimney breast? No problem!
Some old houses have really large chimney breasts. If this is the case, you might consider yourself lucky! With some creativity and proper tools, you can turn it into a home office or craft corner.
10. Traditional elements of chimney breast decor
If you are happy with the structure and colours of your chimney breast but want to add some unique touches, consider the classics:
Hang a big mirror on the wall above your fireplace

Use the mantelpiece for seasonal decoration during holidays like Halloween and Christmas

Hang some colourful prints or a beautiful painting above the chimney breast

Add a classic cast iron grill, and some traditional fireplace tools and

fireplace accessories

Invest in a

bioethanol fireplace insert

to create a functional and eco-friendly fireplace within your existing chimney breast.
At Imaginfires, we stock a wide range of eco-friendly and easy to install bioethanol fireplaces. Ideal for breathing a new lease of life into your chimney breast, our fires come in a wide variety of styles and sizes. Check out our range of bioethanol fires now for an environmentally friendly alternative to traditional and gel fuel fires.