When you want to enjoy the welcoming sight and warm glow of a crackling fire, but don't have enough floor space, a wall mounted fireplace could be the answer to your prayers.
This increasingly popular interior design option not only helps make the most of compact spaces, but also secures the wall fireplace at eye-level, creating an attractive focal point in the room.
Wall mount electric fireplaces are a common choice, providing a secondary source of heat for the room. There's loads of electric wall fireplace ideas to brighten up your space.
You can also enhance your room with some wall-mounted gas fireplace ideas, or install a beautiful, modern, bioethanol wall mounted fireplace as an alternative.

The benefits and ease of decorating around a bioethanol wall mounted fireplace are plentiful: because they are flueless, they produce no soot, ashes or smoke, so you won't have to worry about new décor being tarnished when the fire is lit.

Yet wall fireplaces also provide real flames and a good amount of heat, so will create an attractive and fully functional centrepiece for your wall. Read on for 10 decorating ideas for your wall mounted fireplace and how easy it is to achieve something special.
1. Home entertainment centre - TV wall ideas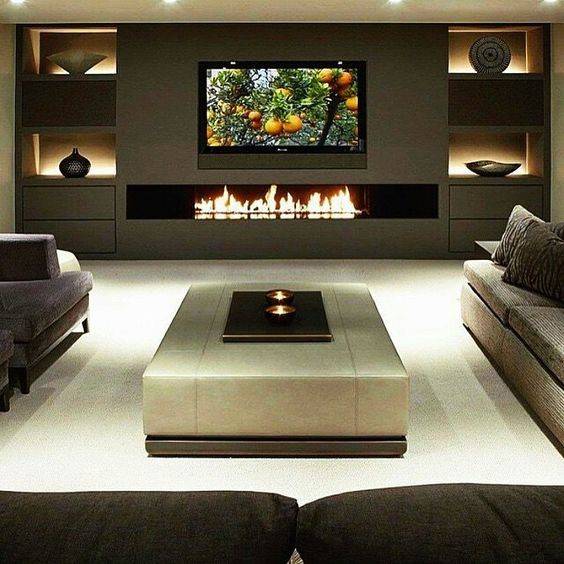 Using a television and a wall-mounted fire together could uplift your room greatly. Here are some TV and fireplace wall ideas for you.
The TV screen and wall mounted fireplace suite should complement, rather than contradict, each other. Mounting the television on the same wall as the fireplace, in a higher position, creates a compact home entertainment centre, with your settee or armchairs positioned comfortably in front, to provide the optimum viewing angle.
It's not a good fire breast wall idea to mount the TV and fireplace side by side, even if it's a wider wall, as this can look clumsy. Create a TV and fire wall rather than a wide look.
2. Classic country living room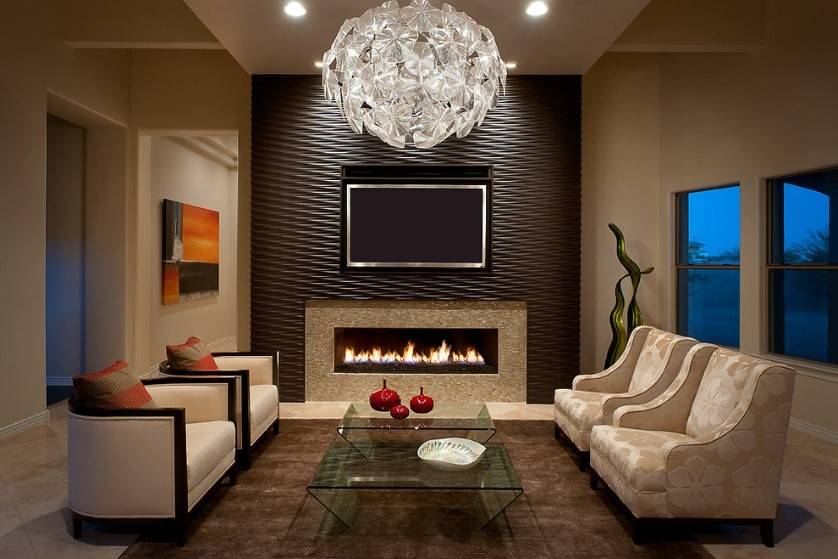 Create a classic country living room by installing a wall mounted cream fireplace and having décor to complement the natural hue.
A cream finish adds a gentle, neutral twist to your wall mounted fireplace, particularly with a contrasting wooden mantel shelf and the wall painted in a neutral shade, such as cream or pale mocha.
Have a selection of cosy throws and blankets on the sofa, also in neutral hues, so you can snuggle down and enjoy the glow.
3. Make the most of natural textures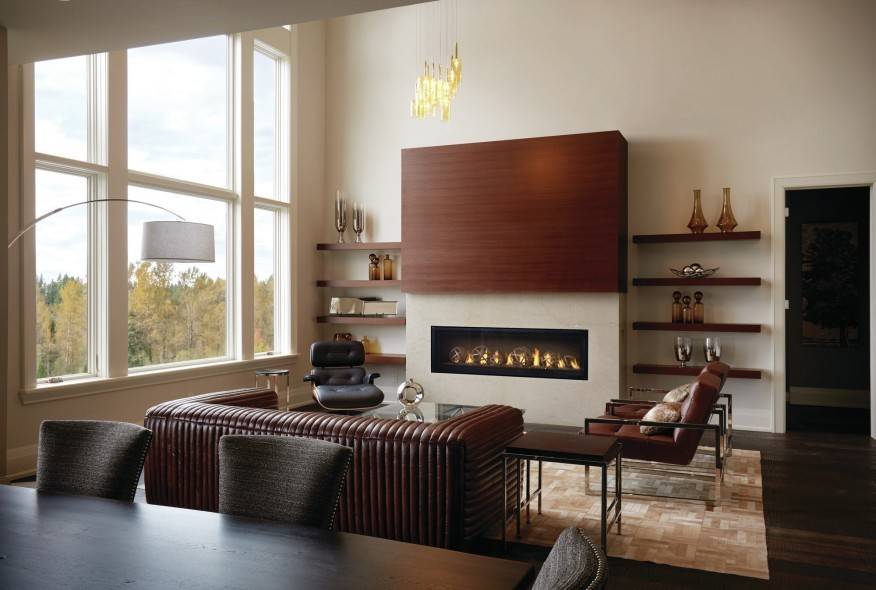 Create a rustic feel by making the most of natural textures around your wall mounted fire.
A modern living room can have a warm and soothing ambience, thanks to an authentic looking fireplace.
If you're looking for exactly the right spot, employ a carpenter to construct a faux wall, with a recess for the fire.
Build symmetric shelving at either side to create chimney breast alcoves and introduce texture with patterned wallpaper. Go for layers of rustic colours, such as mocha, biscuit and chocolate, creating a multi-dimensional finish.
4. Go for natural wood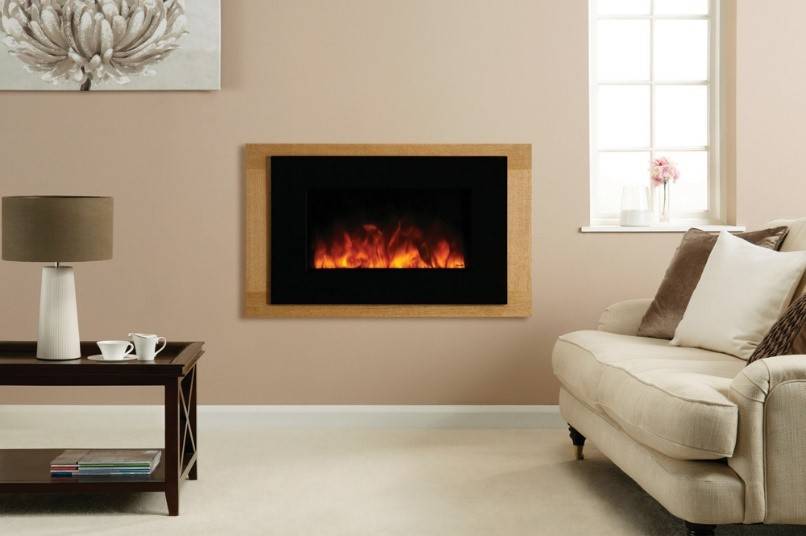 There are many different style choices when it comes to using wood to complement your décor.
Wooden fireplace surrounds can be based on traditional or custom designs, thanks to the versatility of wood.
For example, if you're aiming to achieve a traditional, classic design, oak is considered a wise choice, as it provides an understated elegance to any décor.
For a rustic ambience, go for pine or birch, while cherry can create a more modern and sophisticated style.
5. Exposed brick chimney breast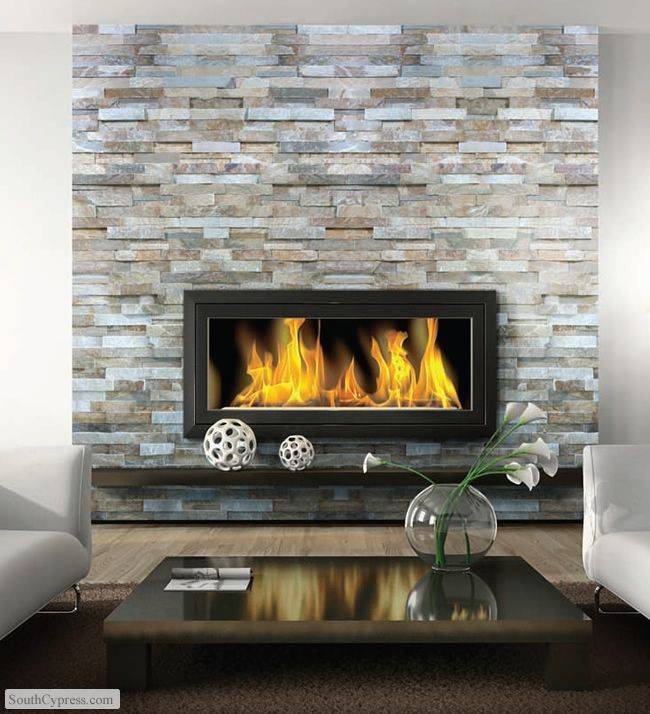 Create a modern living room with an exposed brick chimney breast, a decorative fireplace for the wall that is growing in popularity.
It lends itself to both modern and rustic decorating schemes, demanding attention and creating an almost industrial trend.
Whether it's painted, sealed or left in its natural state, when you dare to bare, you're following one of the latest decorating trends of the moment. You will also find that exposing the chimney breast to create a feature can be a much easier option than starting to decorate from scratch.
6. Dramatic black and white décor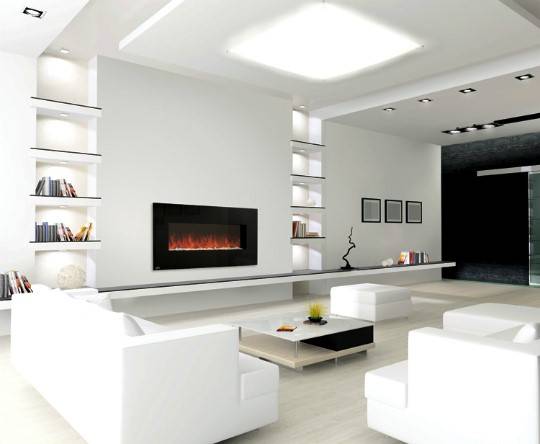 Use your wall mounted fireplace as the focal point of the whole room, decorating around it and using it as a starting point.
Create a dramatic finish by using a stark black and white colour scheme, such as a black mantelpiece and wrought iron fireplace, with white-painted walls and black and white fireplace or furniture.
One thing you must remember is to use a specially-formulated, heat resistant paint on any fire surround, to prevent bubbling. If you wish to add another dimension to the colour scheme, rather than just black and white, add layers of grey too.
7. Traditional slate surround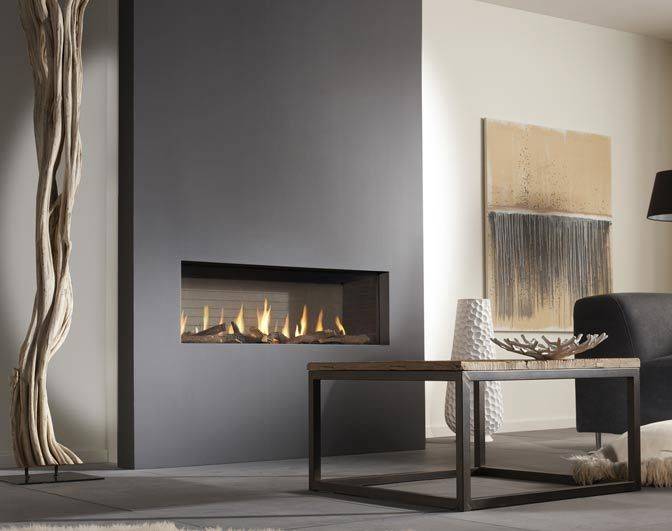 Slate is a traditional fire surround material, providing endless in wall fireplace design possibilities, whether you choose to have a simple slate fire surround, or more dramatic tiles going up to the ceiling.
A popular choice today is Welsh slate, with the tiles being hand split along the natural fault lines of the slate, producing a rustic look and revealing the natural green, blue and grey tints of the stone.
Being fashioned in the traditional way, the thickness of the tiles varies, creating a natural look.
8. Storage central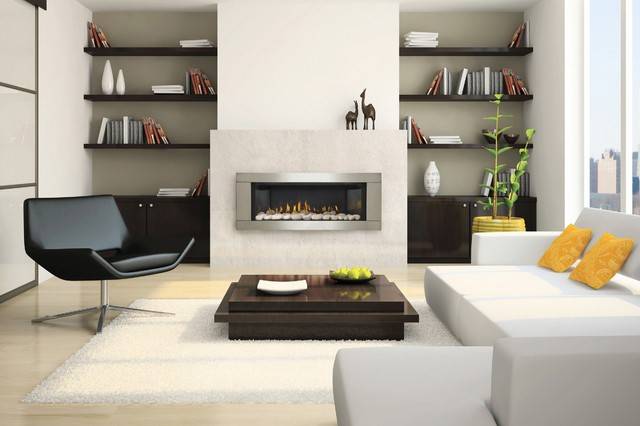 If your budget fire surround needs a makeover and you're also short of storage space, kill two birds with one stone and incorporate extra storage into any decorating ideas for your lounge walls.
If your décor is looking lacklustre around your wall mounted fireplace, add some new bookshelves, providing an opportunity to display not only books, but just about any collectibles and other decorative items.
Cabinets can be installed below the shelves' built-in niches to offer more hideaway space for personal items.
9. Bright and open wall fireplace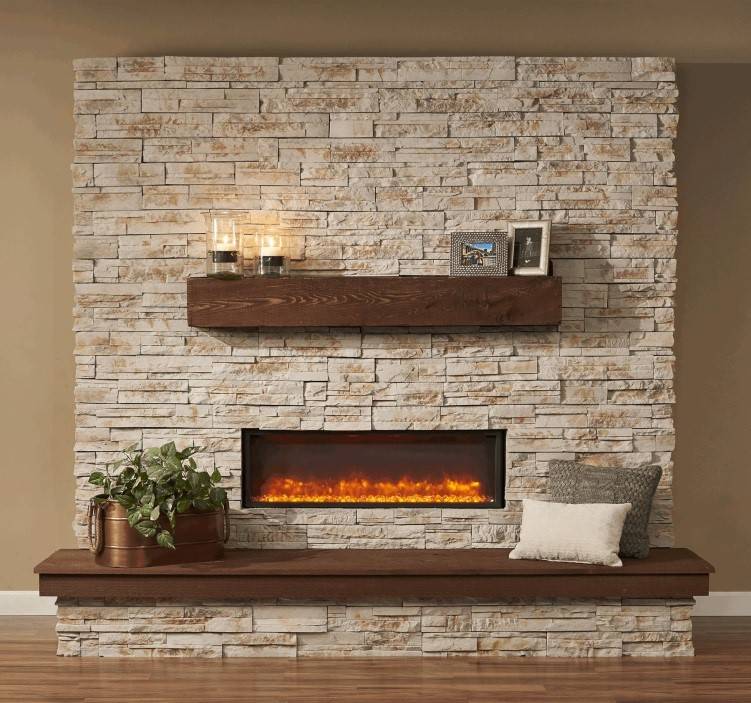 If you're working on a tight budget, spice up the décor with a new fire surround of faux stacked limestone.
This material is perfect for fireplace makeovers on a budget - not only does it have the look and feel of real limestone, but it's also less costly, so you can create a classy finish without spending as much money.
Another benefit is that it's a lightweight material, so it does not require any additional floor support. A wall-length limestone fireplace surrounding your wall mounted fireplace complements the room's modern vibe and design.
10. Feeling arty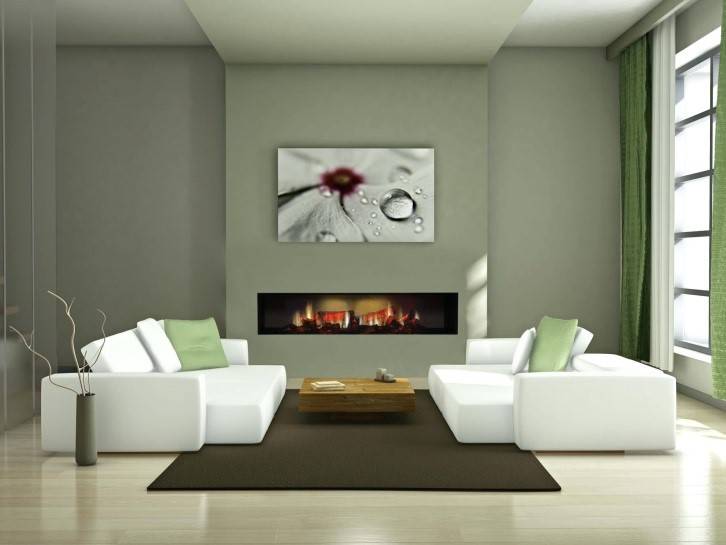 When your fireplace is at eye level, there will be space above it where you can hang a painting or tapestry, giving you the chance to display your favourite artwork. In addition to drawing visitors' attention to the wall-mounted or woodburner fireplace, this will also add colour, especially if the shades in the artwork match those of the fire surround and the décor of the room.

As well as giving you the chance to display the artwork of your choice, it can cover what might otherwise be a rather bland blank space on the fireplace wall.

These are just a few decorating ideas for your wall mounted fireplace. The possibilities really are endless and cover every aesthetic choice and budget.
A little thought and advance planning can create the in wall fireplace design of your dreams, which can be as contemporary or as traditional as you choose.